Daily Archives:
April 6, 2018
Time posted: 7:32 pm
Good evening, folks. I have n real changes from the overall thoughts on our spring snowfall coming tonight into Saturday. This system can drop a few inches of slush across parts of the state, and that may be just enough to cause a few travel issues.
The Winter Weather Advisory has been expanded to include much of the state…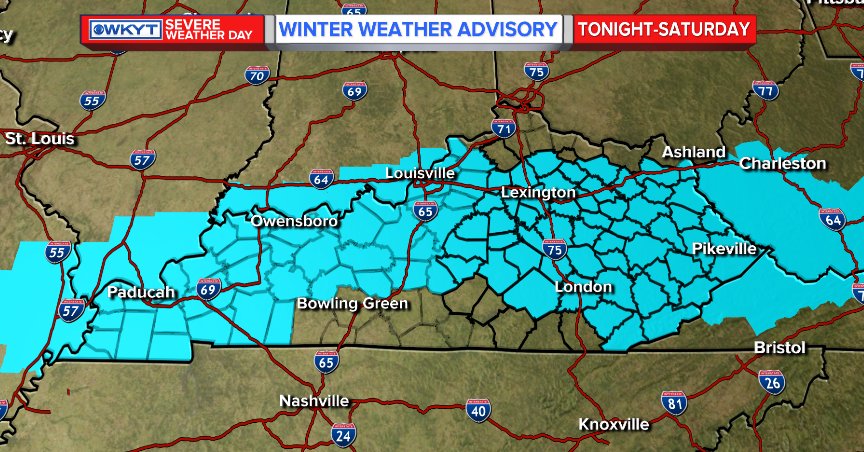 From a snowfall perspective, I haven't seen anything to make me change my views…
There sill be some areas that come in under those totals, but it's the thought that counts. 🙂 Much of the accumulation will come on elevated and grassy surfaces, with quick melting taking place into Saturday.
Sunday morning will feature some of the coldest April temps on record. Many areas will hit the low and mid 20s, but some upper teens may try to show up. That. Just. Wrong.
Another system may bring some light snow and light rain in here Sunday night and Monday morning. Hang in there… The 70s are coming before next week is finished!
Let's get back to our current system, here's regional radar to track the action…
Have a good one and take care.
Time posted: 12:06 pm
Good afternoon, everyone. Our spring snowmaker is looking a little better organized and a touch slower. This should bring a swath of history making snows across much of the state tonight into Saturday.
As mentioned before, the bar is low for historic snows for the month of April. If we use Lexington as our baseline, it only takes 1″ to become one of the top 10 snowiest Aprils of all time. My updated call for snowfall shows many areas with the potential to eclipse that…
I've opened up by range to include much more real estate, because the swath of snow looks healthier and will last deeper into Saturday. I've also tried to highlight the southeastern mountains, where some higher amounts may occur. Instead of ending early, the snow band may linger into the afternoon, especially across the east…
As we inch closer to this, you can see how the storm is just a little strung out. This is turning out to be a much closer call with a crusher than it looked like yesterday. Gotta watch for last minute trends tonight.
A Winter Weather Advisory is out for much of central and eastern Kentucky…
Obviously, I think those should be expanded to include much of the state.
I will be updating the forecast on WKYT-TV starting at 4pm. This will include a new call for snowfall, that will be constantly updated as I see new information.
In the meantime, let's track some showers into parts of the region…
I will have another update this evening. Have a good one and take care.
Time posted: 2:17 am
Good Friday, folks. It's an interesting weather day taking shape across Kentucky with the 60 degree temps and the potential for slushy snows settling in. That sentence actually sums up Kentucky weather pretty well. Beyond this, there's another chance for some rain and snow by Sunday night. Whaaaaaaaaaat?
Highs today make a run at 60 in several areas with a mix of sun and clouds. Late day showers increase, with the rains becoming steady by the evening. That's also when temps crash from northwest to southeast, leading to a band of snow taking over. This is likely to put down slushy accumulations for much of the region…
Some local 4″ amounts may still try to show up in the southeastern mountains. I will get a final call out later today.
Those numbers are still not set in stone as we track just how much moisture that low can throw back into the colder air. With temps dropping into the 20s late tonight, some slick roads may develop for a time.
Here's a look at the current advisories and warnings…
Whatever falls will melt very quickly on Saturday, as the warm ground and the April sun take control. Temp rebound into the upper 30s and low 40s. Sunday morning lows can make a run toward 20 degrees in some of the colder valleys. Ouch.
Our next system rolls in here very quickly by late Sunday into Sunday night. That will bring another round of rain and snow across the state…
Light accumulations will be possible during this time. It's difficult to really put into perspective how rare it is to be talking about back to back snow systems in April.
The first half of next week will continue to run well below normal, but things improve greatly by the end of the week. Temps may hit the 70s during this time. That said. I'm already picking up on a strong storm threat a few days later.
I will update things today, so check back. Make it a good one and take care.