Daily Archives:
September 4, 2018
Time posted: 7:01 pm
Good evening, folks. All weather eyes continue to be on the Gulf of Mexico where Tropical Storm Gordon is nearing the Mississippi coast. This storm will make landfall tonight and looks to throw moisture our way later this week and into the coming weekend.
Gordon is a very ugly looking storm that is lopsided…
Don't forget to take the interactive radar for a spin down to the Gulf. You can watch the live streams from storm chasers in the patch of Gordon…
This storm continues to track east of the original forecasts from National Hurricane Center…
Those folks have been playing catch up to this eastward track all week long and I'm not sure why. Perhaps an over-reliance on some of the hurricane models is to blame.
Regardless, this storm will continue to track east of the forecast track well inland and the operational models have been suggesting this for days and days.
The setup ahead of Gordon will bring a front into Kentucky and slow it down over the next few days. That stationary front will have a lot of tropical moisture to work with, giving us rounds of very heavy rains. Watch for local high water issues from later Wednesday through Friday.
By the weekend, that front is STILL across our region with the remnants of Gordon turning east into the Ohio Valley. The trend is farther south on the east turn. Here's the GFS…
The Canadian is even farther south and into Kentucky…
The European Model has been awful with this system and it continues to suffer with some MAJOR convective feedback issues. Still, the model is slowly correcting with the inland track throwing heavy rain our way…
None of this is set in stone by any means, but it's an indication of the increasing heavy rain threat across Kentucky through Sunday.
Behind this system comes much cooler air into the early part of next week.
I leave you with your isolated storm tracking tools for the evening…
Make it a great evening and take care.
Time posted: 1:40 am
Good Tuesday, everyone. Hot and humid weather continues to rule the short-term pattern across Kentucky, but the tropics are flexing some muscle and will influence our weather the rest of the week. "Flash" Gordon is zipping through the Gulf of Mexico and is likely to throw moisture at us in the coming days.
Let me begin with the current weather and roll forward. Highs today are back into the upper 80s and low 90s with a heat index making it feel toastier than that. Scattered showers and storms will try to flare up during the afternoon and evening…
Gordon isn't the most impressive storm ever created, but it has a chance to reach a low end Cat 1 hurricane before coming ashore. That track for landfall is centered around Biloxi, Mississippi, with the inland track continuing to get pushed farther east by the National Hurricane Center…
The GFS has been smoking many of the other models with the handling of Gordon, especially the European. The latest run of the GFS takes what's left of Gordon north along and just west of the Mississippi River before turning the corner into the northern Ohio Valley this weekend. Watch how all this tropical moisture interacts with a stalled boundary around our region…
The Canadian continues to trend toward the GFS and is now very close to bringing what's left of Gordon into western and northern Kentucky this weekend…
What does all this mean for us?
Tropical moisture streams in here Wednesday through Friday and interacts with a stalled front. This type of setup can bring some major rain producing showers and storms our way.
Humidity levels are going to be absurd.
As what's left of Gordon heads into the northern Ohio Valley this weekend, it will bring another big surge of showers and storms with it. That action will be maximized by a cold front moving in at the same time. This means heavy rain will once again be likely.
Throw all this together and you get, at least, some local high water issues possibly developing at some point.
Temperatures behind all this will actually feel pretty good for a few days early next week, but it's the tropics that will continue to dictate the overall pattern. Florence and a soon to be named system are out in the Atlantic…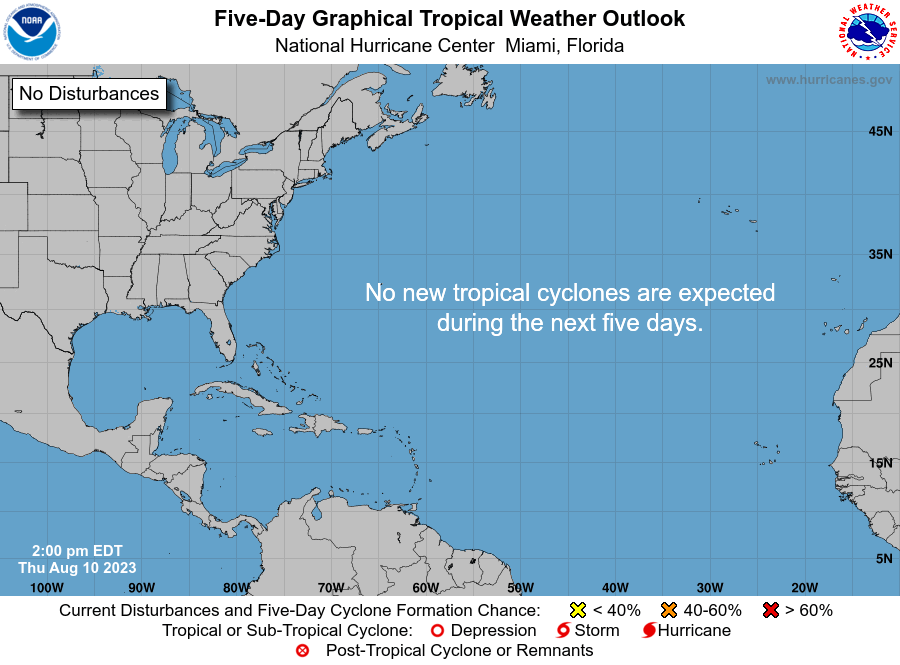 Florence is going to have to fight off a couple of troughs if it's going to make a run at the east coast of the United States next week. The GFS has it getting close, but recurving well offshore…
The Canadian is is MUCH closer to the east coast…
I will hook you up with another update later today. Make it a good one and take care.