Daily Archives:
September 14, 2018
Time posted: 7:01 pm
Good evening, folks. I wanted to drop by for a quick update on Florence and the impact on it will have on our weather later this weekend into early next week. Heavy rain and gusty winds are on the way to central and eastern Kentucky.
Florence is a super slow-moving Tropical Storm moving out of North Carolina and into South Carolina. Here's the latest from the National Hurricane Center…
Florence could still be a Tropical Depression when it arrives in the bluegrass state.
The Hurricane Models continue to be spot on with the same forecast they've had all week long…
The same can be said of the GFS Ensembles…
For those who have been solely relying on the European Model, you should stop. It was awful with Gordon and it's been awful with Florence. The Euro still things Gordon went to Chicago instead of Lexington.
As I mentioned earlier, the center of what's left of Florence is likely to work across the state Sunday into early Monday. Winds can be very gusty with this system. It's also been cool to actually see that center showing up on the Wind Gust Forecast map…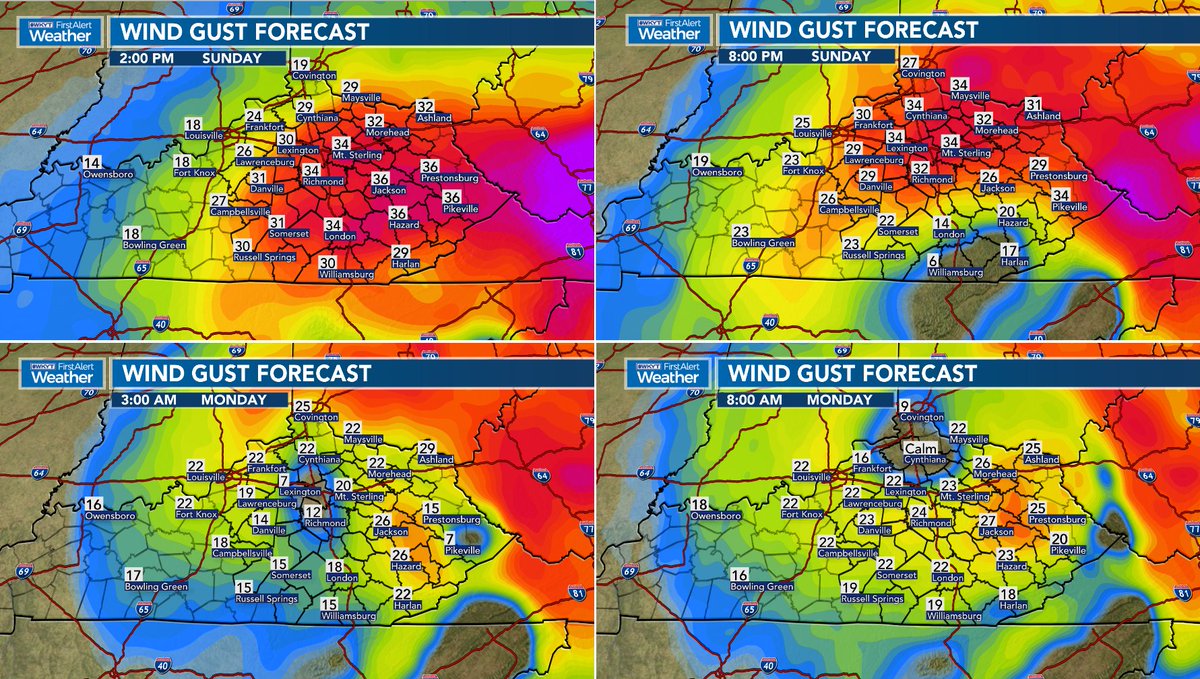 The greatest threat from Florence will come from the heavy rainfall. This is a general look at what I'm expecting…
Locally higher amounts may show up along and east of the center of circulation, and those areas will have the greatest risk for flooding issues.
Ahead of the arrival of Florence, watch for some tropical downpour producing showers and storms to go up Saturday afternoon and evening.
We are also seeing a few of those out there this evening…
Enjoy the evening and take care.
Time posted: 2:12 am
Good Friday, everyone. Hurricane Florence continues to pound much of the Carolinas today. This slow-moving system will then head into the Tennessee Valley later Saturday with a late Sunday through Monday date with our part of the world.
This will bring rounds of showers and thunderstorms and gusty winds to central and eastern Kentucky. I will get to that in a bit, but let's start things out with a check on the vitals of our hurricane…
I want to make sure you guys are utilizing my interactive radar to it's full potential. You can zoom in on any location in the country to track weather conditions, including showing the latest watches and warnings, real time weather information and live storm chaser cams. You can even make this a standalone window from this blog. Anyway, take it for a stroll and zoom in on Florence and watch the live video streams from chasers in the path of the storm…
The hurricane models are pretty much set in bringing the remnant low into the eastern half of the state later Sunday into Monday…
The GFS Ensembles are on the same page…
The GFS has been in lock step with the Ensembles and hurricane models for several days now…
Let's review how all of this could play out through early next week…
Scattered showers and storms will be around this afternoon and then again on Saturday. Temps are pretty steamy and tropical feeling.
What's left of Florence moves from south to north across the eastern half of the state later Sunday into early Monday. This could still be a tropical depression as it moves in.
Given the relatively fast movement of this system, it shouldn't be able to come close to rain totals from last weekend. Plus, the setup is entirely different.
A general 1″-3″ of rain is possible across central and eastern Kentucky with locally higher amounts. Some areas of the west may not see very much rain, if any.
Given the recent rains, local high water issues may develop across the east.
Winds will be fairly gusty as this system moves through. Gusts of 30-40mph will be possible Sunday and Sunday night.
I will have another update later today, so be sure to check back. Until then, let's track any shower or storm that goes up to end the week…
Have a great Friday and take care.