Daily Archives:
December 8, 2018
Time posted: 11:10 pm
Good late Saturday evening, folks. I'm dropping by for a quick update on our winter storm that is trending father north compared to earlier runs. Sleet, freezing rain and heavy snow are in the works for a pretty big chunk of real estate across the bluegrass state.
Winter Weather Advisories and Winter Storm Warnings are up for many areas…
Significant amounts of freezing rain are very possible in some of the counties across the south and south central. That's before some of these areas go over to snow. Power hits are possible in some of these areas.
Given the sleet and freezing rain issues, the snow forecast is a tough one. Obviously, areas seeing more freezing rain will get much less snow. That said, for those areas getting more snow… look out. A heavy, wet snowstorm is likely in those spots and that could also cause some tree and power issues. This will NOT work out perfectly because of the mixing issues, but it's what I've got to show…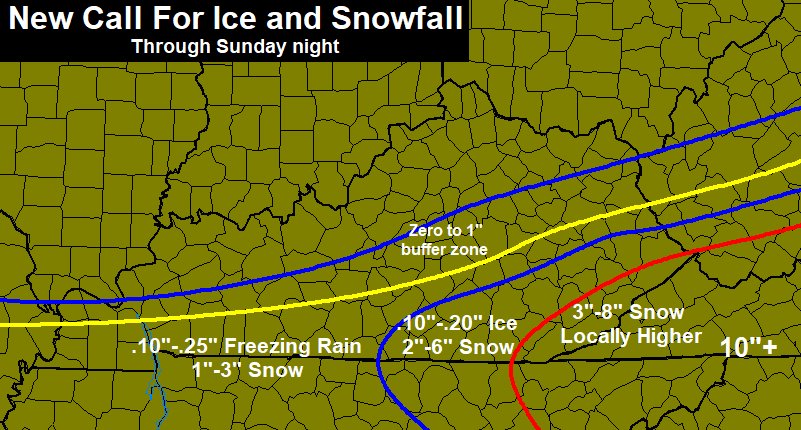 I do want to take a quick look at a few models that are throwing some big numbers out there for both snow and ice.
NAM Snowfall
NAM Freezing rain forecast 
Hi Res NAM snowfall forecast
Hi Res NAM freezing rain forecast
Here are some tracking tools…
Fort Campbell
Kentucky/Tennessee border on I-65
Bowling Green
Pine Mountain
Jenkins
Mountain Parkway near Slade
Richmond
South Lexington
Morehead
I will update later. Take care.
Time posted: 5:11 pm
Good evening, folks. A developing winter storm continues to take aim at areas of the bluegrass state. This will bring snow and ice to many tonight, but it's still a fine line we are walking across the northern half of the state. North of the line is pretty much nothing, south of the line you can get a lot of snow and ice.
I've been trying to update the blog for more than an hour, but the server is struggling to handle all the hits today. As Coach Cal says… You people are crazy! But… I love you guys and our awesome weather community we have on here. 🙂
Since I'm having issues updating, this is a bare bones one without all the models I had planned to show. 🙁
We finally have a Winter Storm Warning for far southeastern Kentucky with a Winter Weather Advisory for many other areas…
The Advisory should be a bit farther north in the east and we should have more counties under a warning in the southeast.
A mixture of snow, sleet and freezing rain will roll into these areas later this evening, with the bulk of the winter weather arriving late tonight into Sunday. Given the mixed precipitation types, it makes it difficult to talk specific snow totals. Areas that get more freezing rain will obviously come in on the low end of the snow totals. On the flip side, those who get less freezing rain will have quite a bit more snow on the ground.
As mentioned, it's a VERY fine line between no precipitation and the band of moderate to heavy wintry precipitation. These lines are not the end all be all of where this thing winds up, as everything could shift a little farther north or south. Here's my updated call…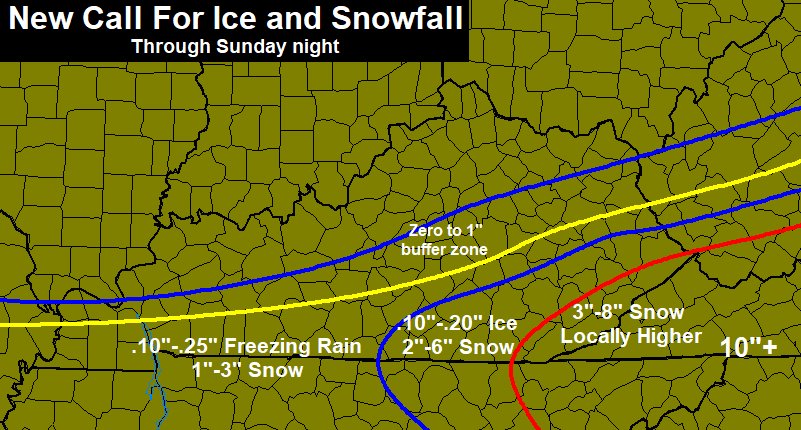 I will get a final call out later this evening as I get a better handle on just how far north this may or may not get.
I will throw you another update later.. If I can log in to do so. You guys are crazy. 🙂
Here's regional radar to tide you over…
Have a great evening and take care.
Time posted: 11:52 am
Happy Saturday, folks. I wanted to drop by for a super visual, but relatively short update in terms of my thoughts. I will offer up another update in a few hours (after the UK game ;)) and that will get much more specific.
I still cannot believe only a Winter Weather Advisory is out for the south and southeast, but this is what the NWS is giving us at the moment…
I will have a new call for ice and snowfall coming up in the next update, but here's the one I started with last night…
Those lines may get bumped north a bit with the next update.
You can see the progress of the winter storm to our west and south…
I told you this update was going to be high on visuals and I'm a weatherdude of my word. Let's take a look at the individual models to see how they are looking.
The NAM continues to put down quite a bit of freezing rain and snow. Check out the mega-sharp gradient on the northern edge of the precipitation shield…
NAM Freezing Rain
NAM Snowfall
The Hi Res NAM is similar…
The freezing rain map shows quite a bit more and is a bit farther north…
The snow map also hits the southeast pretty hard, but is a bit farther north…
The short range Canadian Model continues to be farther north and west with the entire storm. It also is showing the lingering snows many models had several days ago…
The snow forecast from that model is much father north…
The freezing rain output is also farther north…
The GFS has been lost in the woods for days now, but it's the only model certain forecasters use and that's a bloody shame. I suspect that's why our friends at the NWS are playing catch up. Still, the GFS is FINALLY coming in line with everything else…
The snow map is still underdone and too far south…
But, it's finally seeing the extent of the freezing rain…
The new version of the GFS isn't finished, yet, but appears to be in line with everything else outside the GFS, which it's set to replace soon. The euro will be off and running shortly.
I will have both those models and a new call for ice and snowfall with the next update. Have a good one and take care.