Daily Archives:
January 28, 2019
Time posted: 7:32 pm
Good evening, folks. Our first arctic front is crossing the state this evening, bringing bitterly cold temps and a period of snow to parts of the region. The next arctic front moves in Tuesday night with another period of light snow and dangerously cold temps and wind chills.
A Winter Weather Advisory remains in effect for many areas of the region tonight and early Tuesday. Some offices expanded the advisory while others pulled back a bit…
This isn't a lot of snow by any means, but it may be just enough to cause slick travel conditions later tonight and early Tuesday. That's especially true with wet roads that can freeze up as temps drop into the teens. Wind chills will be in the single digits by morning.
The next front arrives Tuesday evening and should produce a band of gusty light snows. That may also cause a few travel issues at times.
Temps absolutely tank and winds crank behind this. That's a dangerous combination for wind chills. Our in house WSI RPM computer model has some off the charts wind chill numbers on Wednesday. These numbers haven't been seen around here since late February of 2015…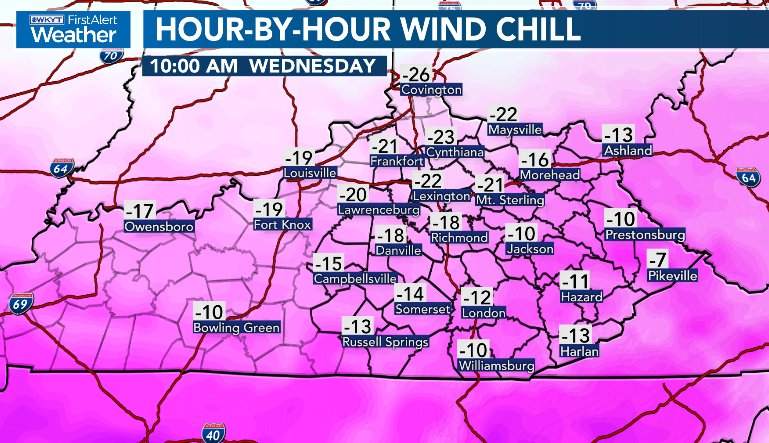 That's absolutely brutal and can cause issues. Actual temps from Wednesday morning through Thursday morning may range from -5 to 5 above. This is a full blown Frozen Pipes Alert!
The bitter cold pulls away by Friday, with overrunning moisture moves in, producing some winter weather…
Let's get back to the arctic front rolling in this evening. Here are your tracking tools…
Hamburg Area from WKYT Studio
Lexington

I-75 @ Newtown Pike
Lexington

I-75 MP 127
Georgetown

I-64 at KY-801
Near Morehead

I-64 MP 97
Winchester

Mountain Parkway near Slade
Pine Mountain
Jenkins
Florence
Covington
Louisville
E-town
Make it a great evening and take care.