Daily Archives:
February 7, 2019
Time posted: 7:28 pm
Good evening, folks. Heavy rain and gusty winds are rolling across the bluegrass state as a powerhouse of a cold front slams in. This front is ushering in a major temperature drop and a touch of wet snow for some.
Ahead of the front, record highs in the 70s were recorded in central and eastern Kentucky. A wall of rain and some thunder is also ahead of the front, creating additional high water issues for some.
As the front passes, temps drop into the 20s tonight with a period of wet snow possible. Wind chill numbers by Friday morning will be around 10 degrees in a few areas. That means it is going to feel 60 degrees colder tomorrow than this afternoon. That's absurd.
Seasonal cold settles in for Friday and Saturday with the next system moving in on Sunday. The NAM shows the potential for rain and a mix…
The next system moves in early next week, bringing the potential for another heavy rain event. Ugh.
I leave you with your evening tracking tools…
Hamburg Area from WKYT Studio
Lexington

I-75 @ Newtown Pike
Lexington

-75/I-64 Southern Split Lexington

Georgetown
I-64 at KY-801
Near Morehead

I-64 MP 97
Winchester

Mountain Parkway near Slade
Pine Mountain
Jenkins
Florence
Covington
Louisville
E-town
Bowling Green
Paducah
Enjoy your evening and take care.
Time posted: 12:25 pm
Good afternoon, everyone. A strong cold front is rolling across the state, bringing a line of strong to severe storms and heavy rains. This front will also usher in a mega temperature change that may include a touch of light snow with it.
The line of showers and storms may spawn a few damaging wind gusts as it rolls eastward. It will also put down another 1″-2″ of rain that can cause additional high water issues to develop, especially in the west and central parts of the state.
Temps crash behind the front with the cold catching the back edge of the rain, switching it over to a brief period of snow tonight…
Temps behind this drop into the 20s, so a few icy spots may develop on area roads. Wind chills by Friday morning will be in the high single digits to low teens.
Cold temps persist the next few days, with the next system due in town on Sunday. That brings rain and some snow…
A much bigger system will then target the state early next week and could bring another big precipitation event our way.
Here are your trackers for the rest of the day…
Have a good one and take care.
Time posted: 1:58 am
Good Thursday, everyone. Rounds of torrential rain producing showers and storms are rolling across the state today, bringing an increased threat for flooding. In addition to the flood potential, we are tracking the threat for strong storms and a gigantic temperature drop.
Let's begin with the flood potential. Areas of southern and southeastern Kentucky are being drenched by repeat shower and thunderstorm action early today. That's the prime spot for flooding and flash flooding to begin the day. As a cold front moves in later today into this evening, showers and storms will bring a renewed high water threat to several areas.
Here's a look at the Flood Watch that continues today…
The current warnings…
That line of storms along and ahead of the front may spawn strong or severe storms as it moves quickly from west to east. Here's the outlook from the Storm Prediction Center…
Temperatures this afternoon may spike into the 70-75 degree range into parts of central and eastern Kentucky…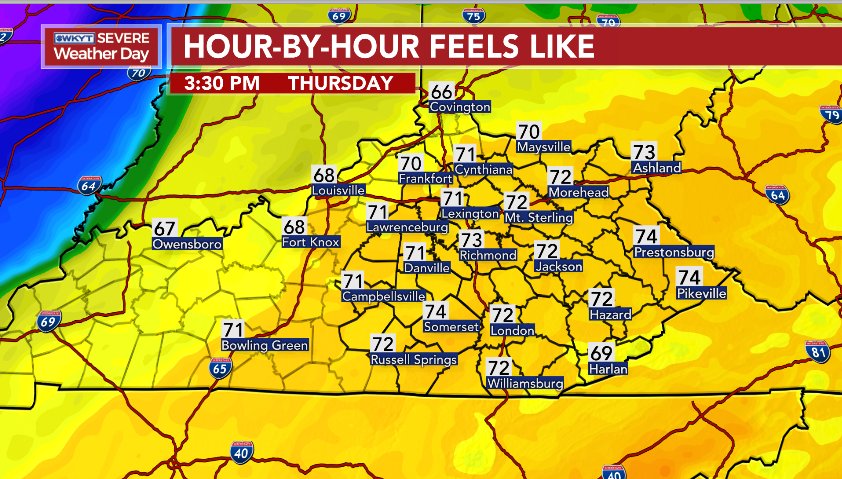 Once the front crashes through here Thursday night, temps drop like the proverbial rock and reach the 20s by Friday morning. Gusty winds will make it feel MUCH colder…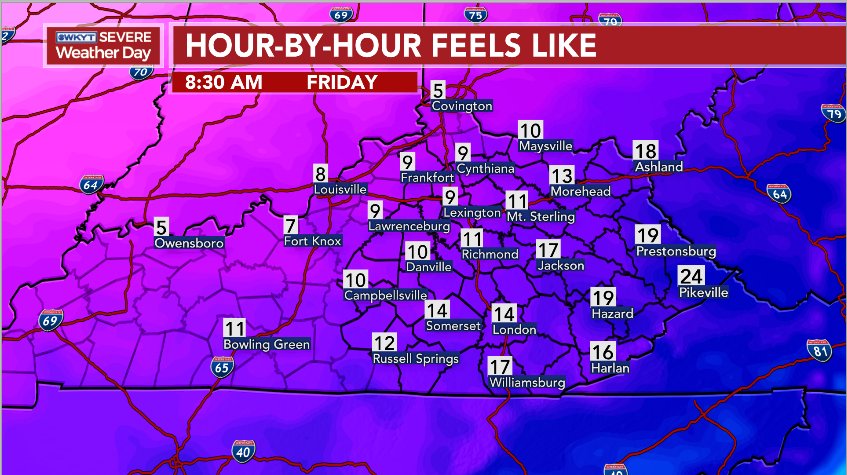 Wow!
Another active setup is on the way from Sunday through the middle of next week. This pattern will have to be watched as it can also put down a lot of precipitation…
GFS
New GFS
I will update things later today, so check back. Here are your tracking tools to get you through until then…
Enjoy your Thursday and take care.