Good Wednesday, everyone. In keeping with the theme of "extreme is the new normal"… record high temps may fall across parts of the state today. Don't get too used to it as a big shot of chill moves in by Friday. Going from near record warmth to chilly air is never a good thing in the springtime and usually means severe weather is the buffer.
That severe weather threat will get going late today in the west and roll eastward across the bluegrass state on Thursday. This is all ahead of a powerful storm bringing a blizzard to parts of the plains states. An area of low pressure will move toward the northern Ohio Valley on Thursday and will drag a strong cold front through here. That means a line of strong and severe thunderstorms is a very real possibility.
The High Resolution NAM Simulated Radar shows the progress of the storms…
Damaging winds appear to be the greatest threat.
Here's what today's severe weather outlook from the Storm Prediction Center looks like…

That threat then moves into central and eastern Kentucky for Thursday…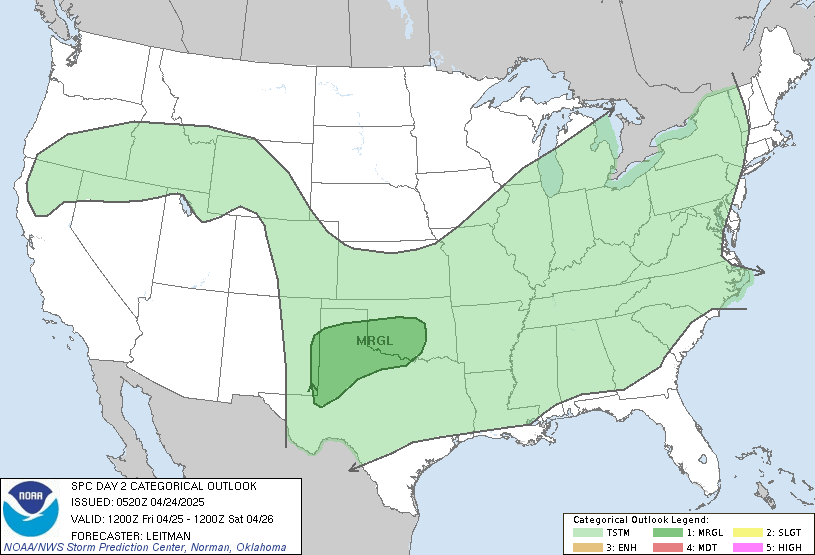 Here's all you need to track the storms working in from the west today…
Track the storms here…
I will have updates as needed and will send out quick thoughts via twitter: Kentuckyweather or follow along in the twitter feed on the right side of the blog. I will also have updates on my Chris Bailey WKYT Facebook page.
Have a great Wednesday and take care.
---