Good late Saturday evening, folks. I'm dropping by for a quick update on our winter storm that is trending father north compared to earlier runs. Sleet, freezing rain and heavy snow are in the works for a pretty big chunk of real estate across the bluegrass state.
Winter Weather Advisories and Winter Storm Warnings are up for many areas…
Significant amounts of freezing rain are very possible in some of the counties across the south and south central. That's before some of these areas go over to snow. Power hits are possible in some of these areas.
Given the sleet and freezing rain issues, the snow forecast is a tough one. Obviously, areas seeing more freezing rain will get much less snow. That said, for those areas getting more snow… look out. A heavy, wet snowstorm is likely in those spots and that could also cause some tree and power issues. This will NOT work out perfectly because of the mixing issues, but it's what I've got to show…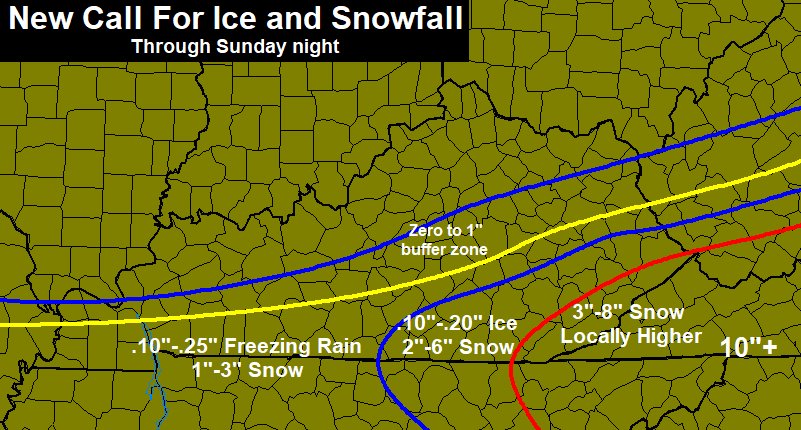 I do want to take a quick look at a few models that are throwing some big numbers out there for both snow and ice.
NAM Snowfall
NAM Freezing rain forecast 
Hi Res NAM snowfall forecast
Hi Res NAM freezing rain forecast
Here are some tracking tools…
Fort Campbell
Kentucky/Tennessee border on I-65
Bowling Green
Pine Mountain
Jenkins
Mountain Parkway near Slade
Richmond
South Lexington
Morehead
I will update later. Take care.