Daily Archives:
February 12, 2017
Time posted: 2:29 pm
Good afternoon, everyone. A cold front is rolling across the bluegrass state and it's ushering in much cooler air for the rest of the day. This front kicks off another wild temperature ride for the upcoming week. It's a ride that will see us flirt with a snow system and flirt with record highs next weekend.
Let's break it all down for ya..
Seasonally chilly temps settle in tonight and carry us into Monday with lows in the 20s and highs in the 40s.
Tuesday will find us watching two systems trying to hook up and become a big storm system. "Trying" being the key word in that sentence. Although much closer together on the models, they are still a miss just to our south and east. Here's the GFS…
That's a "close by no cigar" scenario that only produces some snow showers and flurries around here. The same can be said for the Canadian…
After a brief cold snap behind that system, temps will take off again by Friday and last through the upcoming weekend. This happens as a BIG ridge of high pressure develops across the eastern half of the country, as a deep trough develops in the west. Eventually, that trough rolls east and replaces the ridge…
Record high temps in the 70s are possible next weekend, if that plays out as forecast.
As the cold air comes back into play, it could spawn some big time storm systems. Those show up well and take on more of a winter look…
With such extreme setups come extreme events, and we will be mindful of that going forward.
Enjoy the day and take care.
Time posted: 1:57 am
Good Sunday, everybody. We have a cold front moving into the state today, and this will bring about another drop in temperatures. As we look down the weather road, I see more of the same setting up in the next week. This will be complete with a taste of winter, followed by a super-sized surge of spring.
Folks, the weather across the country is nothing short of extreme. I don't normally focus much on the weather outside of Kentucky, but this is worth a mention.
Parts of Oklahoma were near 100 degrees Saturday…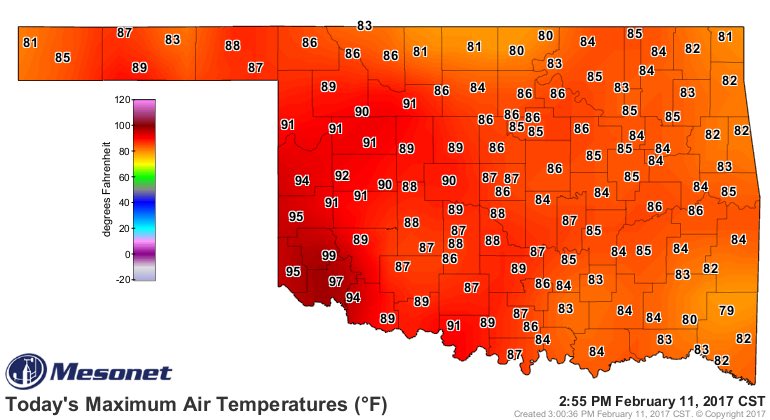 That is absolutely amazing to see in February. I wonder how mother nature can top that? Well, how about dumping snow on those same areas just a few days later…
That's a snow forecast through Tuesday. From near 100 degrees to snow in 2 days may be one of the most extreme weather cases I've ever seen or heard of. Just… wow.
Another extreme is happening in New England. This is an area slammed by a blizzard just a few days ago and is getting slammed by another blizzard today…
Some areas will pick up 2 feet of snow after picking up 1 to 2 feet of snow a few days ago. All this after basically having very little snow prior to this week.
Back here in Kentucky… things are pretty calm when compared to the above. Temps start in the 60s to near 70 and drop quickly this afternoon and evening as a cold front moves in. Gusty showers will be noted along and ahead of this front…
Temperatures by Monday morning drop into the 20s and warm into the 40-45 degree range by the afternoon. Skies look mostly sunny.
Tuesday is a very windy day with highs of 45-50 ahead of a cold front diving in from the northwest. This front has a nice blast of cold air coming behind it for the middle of the week. This system tries it's best to capture a southern storm system, but the models are still a bit south and east of us…
Some snow showers or flurries will be possible while the cold enjoys a brief stay in Kentucky. The Canadian has done great with these cold shots this winter and shows this for Friday morning…
Temps by Friday will quickly rebound with 70 degree temps potentially showing up next weekend.
That should be ahead of a parade of storm systems rolling across the country, as winter doesn't let spring take full control…
I will have another update later today. Enjoy the day and take care.