Daily Archives:
January 2, 2018
Time posted: 7:37 pm
Good evening, folks. I wanted to drop by for another update on the bitterly cold air and the potential for some winter weather over the next week.
Tonight is not going to be nearly as cold as what we had last night, but a few spots will hit the single digits for lows. Thankfully, winds aren't a big player.
That changes over the next few days, as a monster winter storm/blizzard rolls up the east coast, with an arctic front moving into Kentucky. This will produce snow from Florida… FLORIDA… To Maine…
As expected, we are now finding the computer models starting to see the snow showers moving in from late Wednesday into Thursday…
That strong northwesterly flow will combine with arctic cold temps to squeeze out lots of snow showers and flurries. Local accumulations will be possible during this time. There could be another snow shower or flurry maker moving in on Friday.
Air temps hit the single digits again by Thursday morning, with zero or below possible by Friday and Saturday mornings. Winds are going to be gusty during this time, creating dangerous wind chills…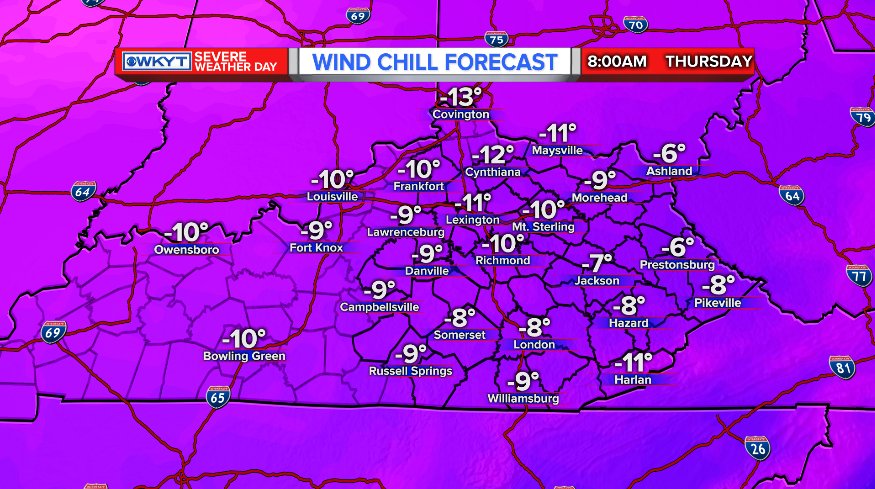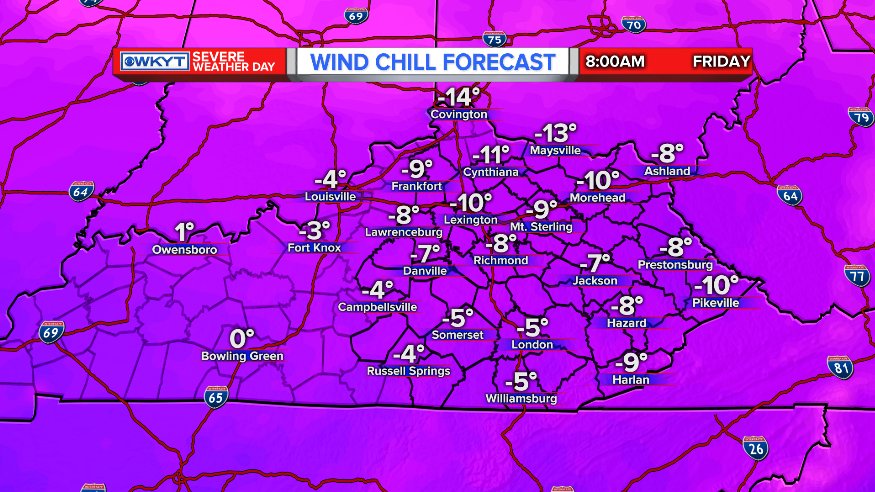 What you see for Friday, is what you're gonna see on Saturday. The dangerous wind chills are going to be more widespread than what we had this morning. Take precautions now.
The system Sunday into Monday continues to set off alarm bells in my head for the potential for icy conditions. The models are slowly coming in colder, but just cannot fully understand that low-level arctic cold does not get pushed out without a strong system.
Still, the GFS is trending toward more winter weather…
Even if temps do go above freezing, with some rain falling, the ground is frozen and road temps will be crazy cold. I have seen many, many instances of ice developing in this type of a setup.
Another shot of bitter cold comes in behind that, with some snow showers for Tuesday and Wednesday. Another winter weather maker should follow that up a few days later.
I will see you guys later tonight for another update. Enjoy your evening and take care.
Time posted: 12:24 pm
Good afternoon, everyone. The phrase "bitterly cold" doesn't really capture the depth of just how cold it was across the state this morning.  Temperatures hit below zero in just about every county in the state. Take a look at the Kentucky Meonet low temps…
That's absolutely astounding, considering many of us do not have snow on the ground. Wind chills were much colder than that, pushing -10 to -20 at times in some areas. The NWS in Wilmington, Ohio finally issued a Wind Chill Advisory around 3:30 this morning, hours and hours after their readings had been well below the criteria. Serving the needs of the people and twitter trolling do not mix, folks.
Lows tonight won't be as cold, but many areas should still hit the single digits, especially in the north.
A MAJOR winter storm will hit the southeast on Wednesday, rolling up the east coast as a blizzard for Thursday and Friday. How about snow from Florida to Maine….
Northwesterly winds will crank around here Wednesday night into Thursday, as arctic air dives into the region. That wind will produce some snow showers, especially across central and eastern parts of the state…
Some light accumulations will be possible, especially in the east. These snow showers will also be accompanied by another blast of bitterly cold temps. Lows by Thursday morning are deep into the single digits, with below zero wind chills again…
Similar conditions will be noted for Friday and Saturday mornings, but we will also need to watch for a potent upper level disturbance to swing across the state…
That can be a light snow and flurry maker to start the weekend.
We need to watch the late Sunday-Monday period for a messy situation possibly developing. The models are going to overestimate temperatures as precipitation is moving in. A mix and rain will be possible, but it will all be falling on a frozen ground and roads. Similar situations in the past have produced some icing on roads, and we will really need to be on guard for that.
Bitterly cold air will follow that up by Tuesday, with a few snow systems waiting in the wings.
I will have an update on WKYT starting at 4pm and will put out another update here later this evening. Make it a good one and take care.
Time posted: 2:01 am
Good Tuesday, everyone. It's one of the coldest stretches of weather you will ever find around here, and it just keep rolling on across Kentucky. After a VERY small break in the brutal cold on Wednesday, things go downhill quickly to end the week.
Temps this morning are frigid with readings ranging from -5 to +5. Wind chills will drop into the -5 to -15 range at times. This afternoon will feature highs in the teens for many, with a wind chill in the single digits across the northern half of the state.
A major winter storm develops across the southeast on Wednesday, bringing a snow threat from Florida to the Carolinas. That storm then rides up the east coast and may bring near blizzard conditions to the northeast. As that happens, northwesterly winds crank around here with arctic air returning Wednesday night and Thursday.
That northwesterly wind will likely touch off snow showers and a few snow squalls. The NAM is slowly beginning to pick up on a few of these…
With such frigid temps, it won't take much moisture to produce snow, similar to what happened New Year's Eve. Light accumulations will be possible during this time.
In addition to the snow showers, the wind chill numbers will tank once again. Lows Thursday morning are in the single digits, with wind chills well below zero…
Highs from Thursday through Saturday will likely stay in the teens for many areas, with overnight lows dropping toward zero or below Friday and Saturday. Wind chills will continue to run solidly below zero at times.
Overrunning moisture streams in here later Sunday into Monday and this can create a mess. In addition to the potential of a wintry mess falling from the skies, the ground and roads will be frozen solid. Even if air temps warm enough to allow some rain to fall, icy conditions can easily develop. We have seen this happen numerous times before and it can have significant impacts.
Behind that system, comes another surge of bitterly cold temps…
I will have updates later today, so check back. Help us out by posting the lowest temp from where you live!
Make it a good one and take care.