Daily Archives:
September 11, 2019
Time posted: 1:43 am
Good Wednesday, everyone. September sizzle rolls on as our sky tries to get a little more active in the coming days. This means a few showers and storms joining the mix, especially later in the week as a cold front drops in from the northwest. What happens after this depends on what happens in the busy tropics.
As always, we start with the precious present. Temps today are back in the 90s with more humidity filling the air. This will help spawn a few showers and thunderstorms during the afternoon and evening. One or two strong storms will be possible, but this isn't widespread stuff. Here are your tracking tools for the day…
Thursday looks a whole lot like today with more steam and a few storms.
By Friday, a cold front is approaching the region from the northwest. This front will bring a broken line of showers and storms in here. Temps will once again be in the 90s.
Much of what happens after this front depends on the tropics. A system is crossing Florida and getting into the Gulf and could develop into a full blown depression or storm. That's one of several systems being monitored in the Atlantic…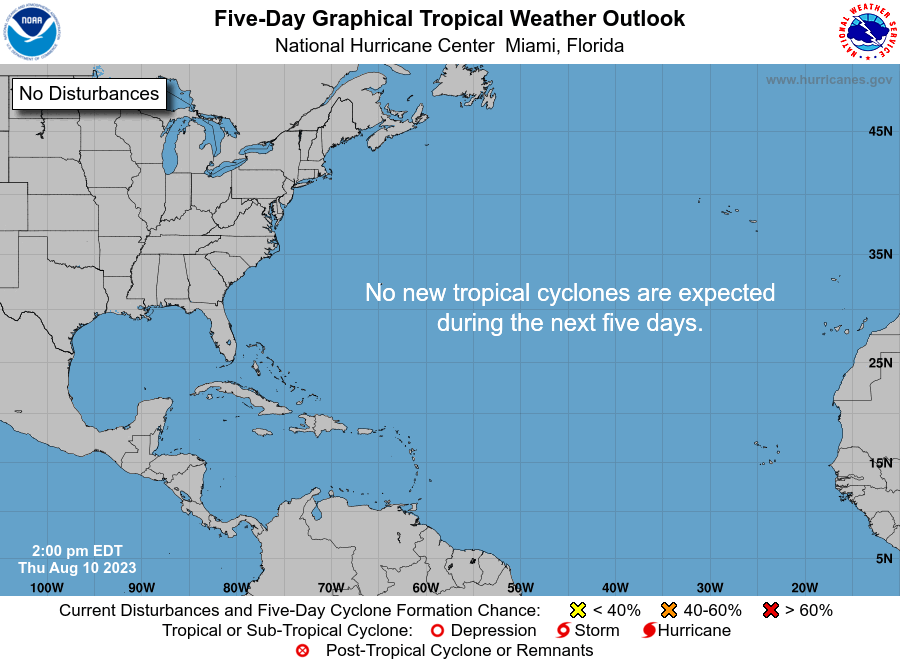 Once that gets into the Gulf, it has a chance to bring rain our way early next week. Watch how the models handle the weekend front then open the door to tropical moisture that follows:
GFS
Canadian
That system in the Gulf is certainly something to keep a close eye on.
Another tropical system may approach the southeastern seaboard late next week or into next weekend. At the same time, a deepening trough may engulf our region.
Enjoy your day and take care.