Good Sunday, everybody. We have a cold front moving into the state today, and this will bring about another drop in temperatures. As we look down the weather road, I see more of the same setting up in the next week. This will be complete with a taste of winter, followed by a super-sized surge of spring.
Folks, the weather across the country is nothing short of extreme. I don't normally focus much on the weather outside of Kentucky, but this is worth a mention.
Parts of Oklahoma were near 100 degrees Saturday…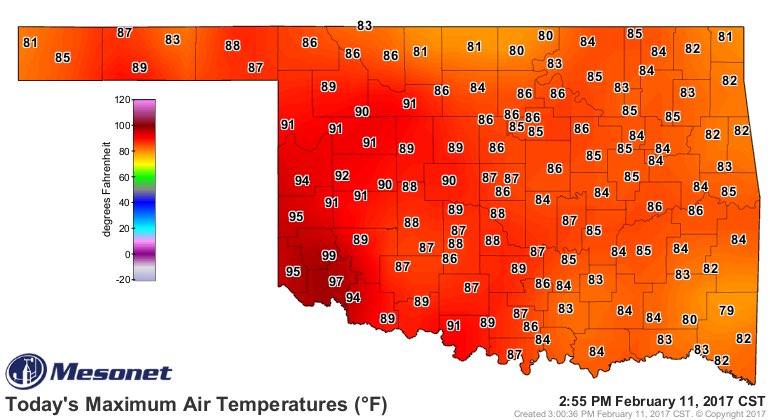 That is absolutely amazing to see in February. I wonder how mother nature can top that? Well, how about dumping snow on those same areas just a few days later…
That's a snow forecast through Tuesday. From near 100 degrees to snow in 2 days may be one of the most extreme weather cases I've ever seen or heard of. Just… wow.
Another extreme is happening in New England. This is an area slammed by a blizzard just a few days ago and is getting slammed by another blizzard today…
Some areas will pick up 2 feet of snow after picking up 1 to 2 feet of snow a few days ago. All this after basically having very little snow prior to this week.
Back here in Kentucky… things are pretty calm when compared to the above. Temps start in the 60s to near 70 and drop quickly this afternoon and evening as a cold front moves in. Gusty showers will be noted along and ahead of this front…
Temperatures by Monday morning drop into the 20s and warm into the 40-45 degree range by the afternoon. Skies look mostly sunny.
Tuesday is a very windy day with highs of 45-50 ahead of a cold front diving in from the northwest. This front has a nice blast of cold air coming behind it for the middle of the week. This system tries it's best to capture a southern storm system, but the models are still a bit south and east of us…
Some snow showers or flurries will be possible while the cold enjoys a brief stay in Kentucky. The Canadian has done great with these cold shots this winter and shows this for Friday morning…
Temps by Friday will quickly rebound with 70 degree temps potentially showing up next weekend.
That should be ahead of a parade of storm systems rolling across the country, as winter doesn't let spring take full control…
I will have another update later today. Enjoy the day and take care.
---