Daily Archives:
January 7, 2018
Time posted: 7:00 pm
Good evening, folks. Our winter weather maker is pressing into the region from west to east, setting the stage for icy roads, sidewalks and parking lots to develop overnight. That will then take us through the first half, at least, of Monday.
I haven't seen anything to change my overall thought process on the possibilities with this event…
Temps will drop as precipitation moves in, leading to a mix of freezing rain, snow, sleet and rain. Ground and road temps are still deep into the 20s, so anything that falls will turn into ice, regardless of the air temp.
The late day GFS was just a smidge colder, leading to the model showing a slightly better snow signal…
The NAM continues to show all forms of precipitation, with a heavier emphasis on freezing rain. The map below is not a pure snow map, but instead, shows more of the winter weather potential…
I think that is overdone across western Kentucky.
Travel conditions go downhill overnight and early Monday, especially across central and eastern Kentucky. Untreated roads, sidewalks, and parking lots may become skating rinks.
I continue to keep a close eye on the late week system, and the ensuring setup behind it into early next week. There's an increased threat for some kind of Ohio Valley winter storm…
Let's get through this first mess, then we can concentrate more on that potential.
I have you guys all set to track, but please use caution with the precipitation coding on radars. They're not going to fully capture the location and different forms of precipitation. Also, don't be fooled by the air thermometer when traveling. Roads can still be icy with temps above freezing.
Track away…
Hamburg Area from WKYT Studio
Lexington

I-64 at KY-801
Near Morehead

I-275 approaching KY 20/Airport
Near Covington

I-71/I-75 at Buttermilk Pike
Near Covington

I-71/I-75 at 12th St.
Covington

US 60 @ US 127
Frankfort

Downtown Louisville @ 2nd & Broadway
Louisville

I-64 at KY-801
Near Morehead

Maysville
Jenkins
Bardstown
I-65 MP 92.4
Elizabethtown

Louie B Nunn MP 3
Near Glasgow

Natcher Parkway MP 5
Near Bowling Green

US 41A Gate 5 Fort Campbell Entrance
Fort Campbell

I-24  MP 4 @ US 60
Paducah

I-24 MP 7 @ US 62
Paducah

I will see you guys back here for the late night update. Enjoy your evening and take care.
Time posted: 1:42 pm
Good afternoon, everyone. It's full steam head toward a wintry mess later tonight into Monday.  A combination of freezing rain, sleet, snow and rain will move across Kentucky, and falling onto a frozen ground. That will create widespread travel issues.
A Winter Weather Advisory is out for much of Kentucky through Monday…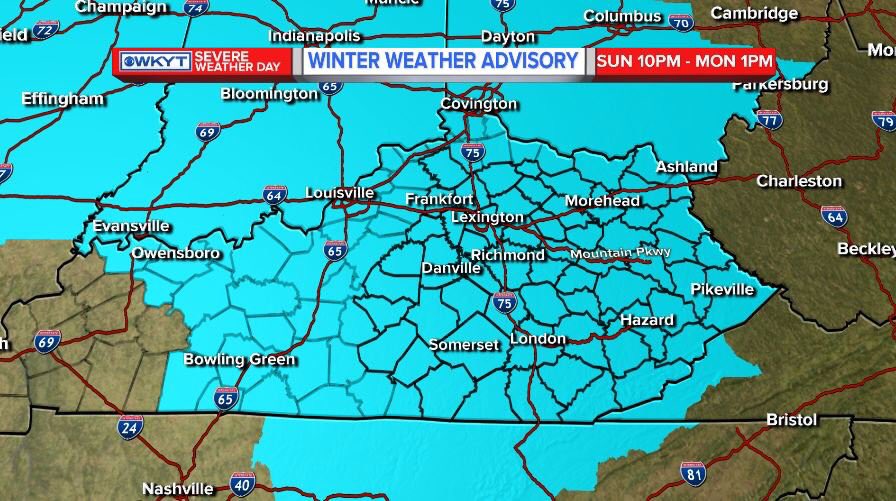 For our neighbors in West Virginia… No excuse for that not to be expanded into your region. None.
I'm sticking with the map I put out last night…
Even as temps hit freezing or above this afternoon, the dewpoint temps are INCREDIBLY low. Here's the dewpoint temp for late this evening…
As precipitation falls into that dry air, it initially evaporates and cools the temps. Readings will quickly drop below freezing. That, in conjunction with a frozen ground will make for an icy mess later tonight and Monday.
Let's look at the model trends and see what we can find.
The Canadian Model continues to be the coldest, leading to much more of a front end snow signal…
That model run has a little less ice, but is still nasty…
The short range Canadian Model is MUCH more aggressive with the ice…
The NAM is also very aggressive with the freezing rain, producing nearly a third of an inch of ice…
If that verifies, some minor power problems would be noted, especially from the Lexington metro to the Louisville metro.
The Hi-Res NAM isn't quite to that extent, but it's not too far behind…
If you're going to be traveling late tonight into the first half of Monday, please be aware we are likely to have a significant travel impact across the region.
Looking down the road, the end of the week setup can feature temps making a run at 60 with showers and storms, followed by a major temperature drop and winter weather…
Watch that setup!!
I'll drop back for another update later this evening. Have a great Sunday and take care.
Time posted: 2:12 am
Good Sunday, everyone. As another day starts with temps in the single digits in Kentucky, we turn our attention toward a wintry mix moving in for Sunday night and Monday. This isn't a big storm system, but it is likely to become a high impact travel event by tomorrow morning.
A mix of freezing rain, sleet, snow and rain develops in the west this evening and rolls eastward tonight and Monday. Here's my latest breakdown:
Temps this afternoon rebound toward the freezing mark or a little above in the south and west.
Those temps drop back to freezing or a few degrees below as precipitation moves in. That sets the stage for our wintry mix.
With the ground frozen solid and road temps in the low 20s, anything that falls is going to create slick travel conditions by Monday morning.
Even with temps above freezing, the frozen ground is going to make things icy. That's especially true for untreated roads, sidewalks and parking lots.
Pinpointing specific amounts of each precipitation type is a tough thing to do, even on a general scale. That said, here's your latest Call For Snow/Icefall…
As always, those lines and numbers are general estimates and are never set in stone. I will put out a final call later today.
My current map lines up more with the Canadian Model than anything else…
Snow
Ice
The Hi Res NAM is very similar now with the icing…
Again, this is more of a travel impact than anything else.
We will also need to keep a close eye on Tuesday morning for the potential for some freezing drizzle developing.
From there, temps recover in a big way for the middle of the week, but come crashing down by Friday. That's when we may go from thunderstorms to winter weather that carries us through next weekend…
We will worry about that once we get through the icy stuff coming later tonight and Monday.
I will update things again later today, so check back in. Have a great Sunday and take care.