Good afternoon, everyone. It's full steam head toward a wintry mess later tonight into Monday.  A combination of freezing rain, sleet, snow and rain will move across Kentucky, and falling onto a frozen ground. That will create widespread travel issues.
A Winter Weather Advisory is out for much of Kentucky through Monday…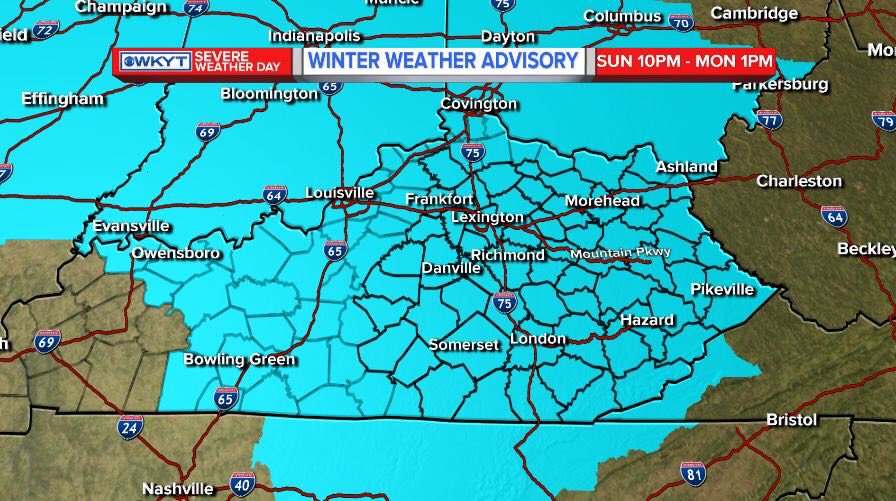 For our neighbors in West Virginia… No excuse for that not to be expanded into your region. None.
I'm sticking with the map I put out last night…
Even as temps hit freezing or above this afternoon, the dewpoint temps are INCREDIBLY low. Here's the dewpoint temp for late this evening…
As precipitation falls into that dry air, it initially evaporates and cools the temps. Readings will quickly drop below freezing. That, in conjunction with a frozen ground will make for an icy mess later tonight and Monday.
Let's look at the model trends and see what we can find.
The Canadian Model continues to be the coldest, leading to much more of a front end snow signal…
That model run has a little less ice, but is still nasty…
The short range Canadian Model is MUCH more aggressive with the ice…
The NAM is also very aggressive with the freezing rain, producing nearly a third of an inch of ice…
If that verifies, some minor power problems would be noted, especially from the Lexington metro to the Louisville metro.
The Hi-Res NAM isn't quite to that extent, but it's not too far behind…
If you're going to be traveling late tonight into the first half of Monday, please be aware we are likely to have a significant travel impact across the region.
Looking down the road, the end of the week setup can feature temps making a run at 60 with showers and storms, followed by a major temperature drop and winter weather…
Watch that setup!!
I'll drop back for another update later this evening. Have a great Sunday and take care.