Good Monday and Happy New Year! Let me start out by wishing each of you an absolutely amazing 2018. I appreciate you guys more than you know and I'm planning some big things on the blog for the year ahead. This will blow your mind, but KWC turns 10 years old this summer. WOW! Anyone up for a blog party?  🙂
Bitterly cold temps are here and will last through the week and into the start the upcoming weekend. I've set the stage for this for the past few weeks, but let's hit the highlights:
Highs today will be in the teens, with the north barely getting past 10 degrees. Wind chills will be near zero for much of the day.
Leftover light snow will be noted early this morning, with several roads likely snow covered to begin the day. Never underestimate the snow making power of a northwesterly wind around here. Unfortunately, many keep doing just that.
Tonight into Tuesday morning will be brutal. Lows across the state a generally from -5 to +5, but north can drop as low as -10.
Wind chills tonight and Tuesday morning generally range from -5 to -15. Brutal.
A major east coast winter storm may bring snow all the way from the southeast coast into New England. That has the potential to turn into a full blown blizzard.
That's too far east for a direct impact on our weather, but it will give us a VERY strong northwest wind by Wednesday night through Friday. Look at the flow from the NAM on Thursday morning…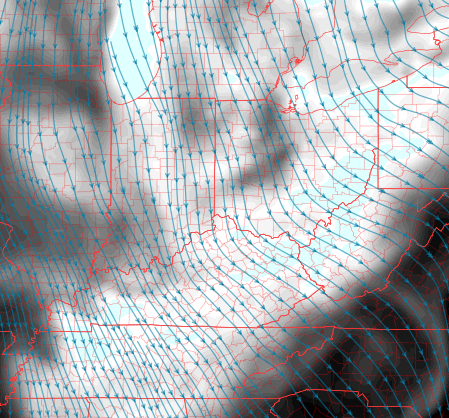 That amp shows the flow right off the Great Lakes into Kentucky and shows the low level relative humidity. Throw in bitterly cold temperatures and you can get widespread snow showers and squalls out of that. You won't get the models to pick up very well on that until we get closer, because there isn't very much actual QPF involved.
That said, the NAM is already picking up on this for Wednesday night…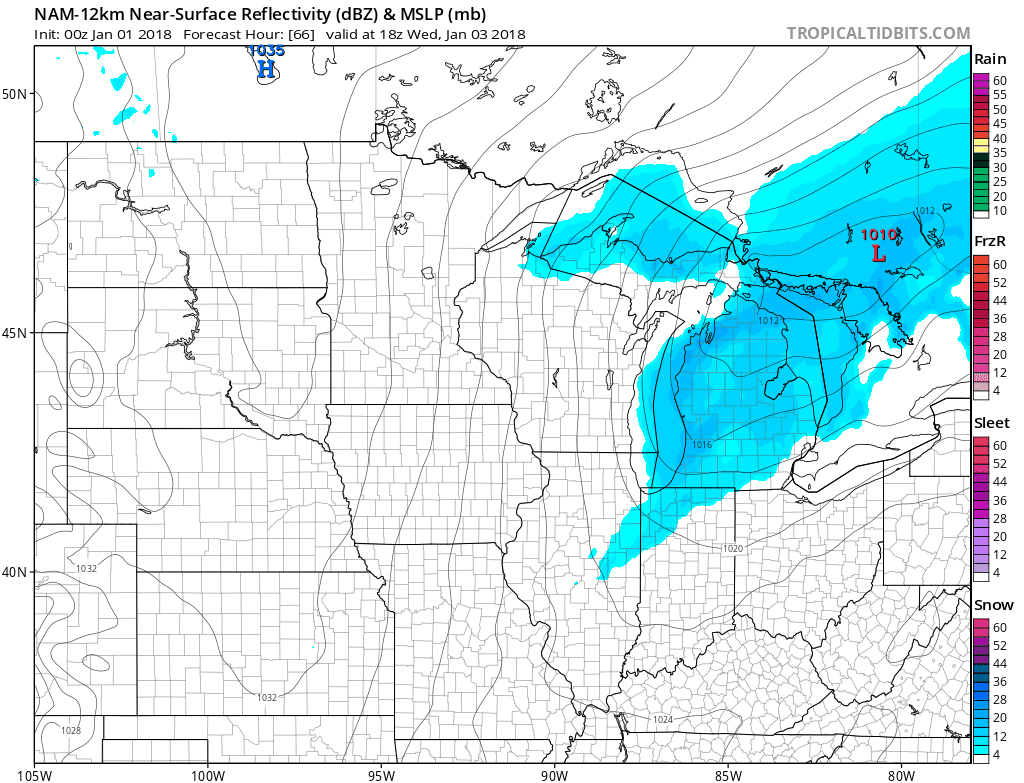 A potent upper level system then dives into our region by late Thursday and Friday…
That may very well produce another light snowfall across much of our region. With the bitter cold in place, it won't need much moisture to produce snow.
Speaking of the bitter cold, temps from Thursday through Sunday continue to show up as cold or colder than right now. Wind chill numbers may actually be even lower.
Temps rebound some later Sunday and Monday as a storm system rolls our way. The trend toward colder is already underway on the models, with the European leading the charge…
As we get closer to that, and the models keep seeing the amount of dense arctic air in front of it, watch for more of a south trend to show up.
The European Model then brings ANOTHER brutally cold air mass into the country, with the position of the coldest air farther west. That would open us up to more systems potentially undercutting the cold…
I will have updates as normal later today. Happy New Year and take care.