Good evening, folks. A developing winter storm continues to take aim at areas of the bluegrass state. This will bring snow and ice to many tonight, but it's still a fine line we are walking across the northern half of the state. North of the line is pretty much nothing, south of the line you can get a lot of snow and ice.
I've been trying to update the blog for more than an hour, but the server is struggling to handle all the hits today. As Coach Cal says… You people are crazy! But… I love you guys and our awesome weather community we have on here. 🙂
Since I'm having issues updating, this is a bare bones one without all the models I had planned to show. 🙁
We finally have a Winter Storm Warning for far southeastern Kentucky with a Winter Weather Advisory for many other areas…
The Advisory should be a bit farther north in the east and we should have more counties under a warning in the southeast.
A mixture of snow, sleet and freezing rain will roll into these areas later this evening, with the bulk of the winter weather arriving late tonight into Sunday. Given the mixed precipitation types, it makes it difficult to talk specific snow totals. Areas that get more freezing rain will obviously come in on the low end of the snow totals. On the flip side, those who get less freezing rain will have quite a bit more snow on the ground.
As mentioned, it's a VERY fine line between no precipitation and the band of moderate to heavy wintry precipitation. These lines are not the end all be all of where this thing winds up, as everything could shift a little farther north or south. Here's my updated call…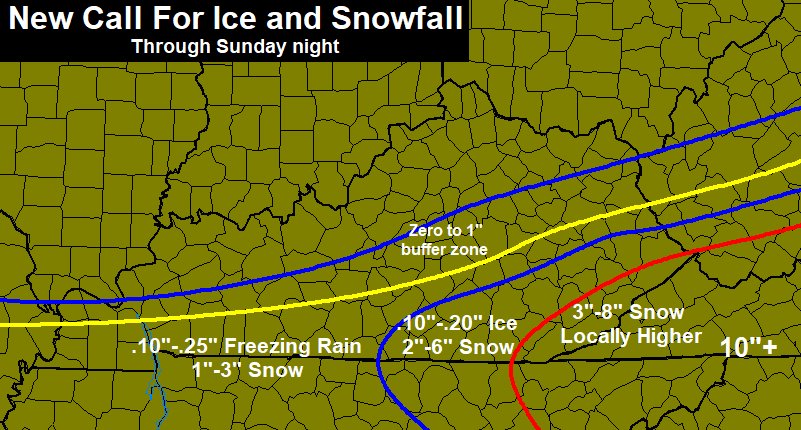 I will get a final call out later this evening as I get a better handle on just how far north this may or may not get.
I will throw you another update later.. If I can log in to do so. You guys are crazy. 🙂
Here's regional radar to tide you over…
Have a great evening and take care.