Daily Archives:
February 6, 2019
Time posted: 7:31 pm
Good evening, folks. Heavy rain and storms continue to target the region, especially southern Kentucky. This is bringing an increased threat for flooding tonight then again late Thursday. This is all ahead of a potent cold front, bringing a major temperature drop.
I'm really going to watch the southern half of the state this evening as that's the area getting in on the heaviest rain. The Flood Watch continues tor the entire state…
Strong to severe storms are possible across the western and south central parts of the state. This is the area being highlighted by the Storm Prediction Center…
The cold front sweeping in late Thursday into Thursday evening may also spit out a line of strong storms. The temperature trend from one side of this front to the other is absolutely amazing.
Check out the Euro Highs Thursday afternoon…
Now, check out where it has temps at by Friday morning…
Wow!
Here's a little different model run showing the feels like change…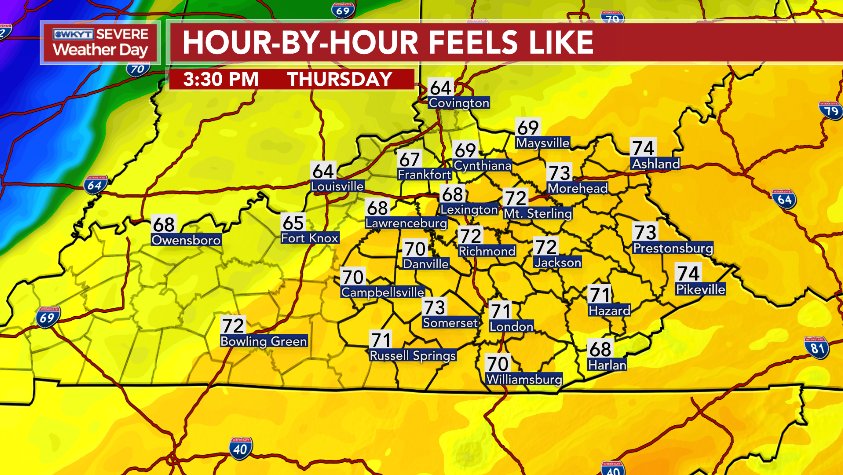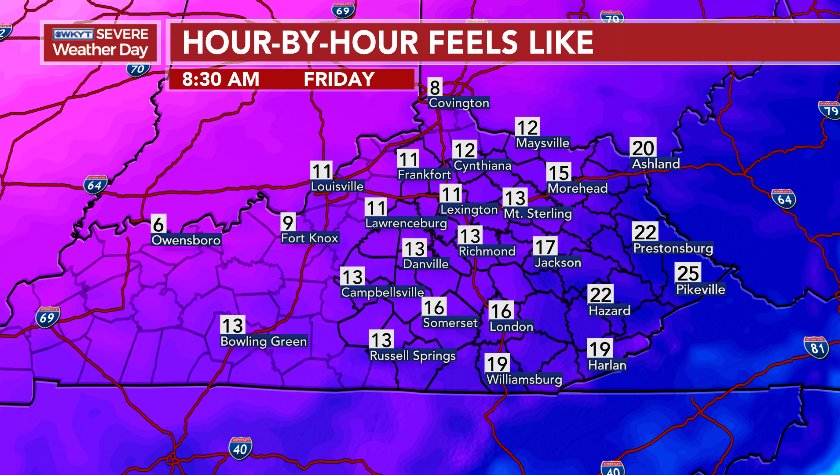 Double WOW!
Cold settles in for Friday and Saturday with single digit wind chills Saturday morning…
The setup after Saturday turns very busy once again as colder air tries to get involved with the systems moving our way. The new version of the GFS continues to lead the way in showing more of a winter look…
Winter is far from done!
I leave you with your evening tracking tools…
Make it a good one and take care.
Time posted: 12:39 pm
Good afternoon, everyone. Rounds of heavy rain producing showers and thunderstorms continue to target the region. This is a setup that will take us through Thursday, bringing the potential for high water issues and even a few severe storms.
As expected, the Flood Watch was expanded to include southern and southeastern Kentucky…
This should actually extend into northern Tennessee because the axis of heaviest rain continues to show up a little farther south. This is something we've talked about for the past few days and now you're seeing it play out in real time.
A general 2″-4″ of rain is likely through Thursday night. Locally higher amounts may show up, especially in the southern half of the state. That would be enough to cause local flooding issues.
In addition to the flood potential, the threat for strong to severe storms is with us, especially across the western half of the state. The Storm Prediction Center has this region in a Slight Risk with the marginal risk into areas of central and south central Kentucky…
Temps tank Thursday night as the front blows in, as the 20s show by Friday morning. An area of light snow will show up for a short time.
After a seasonally cold Friday and Saturday, the active pattern cranks back up with a series of systems rolling across the region through next week. These systems continue to take on more of a winter look to them, with the usual model flips and flops…
Canadian
GFS
New version of the GFS
I leave you with your tracking tools for the day…
Make it a good one and take care.
Time posted: 1:56 am
Good Wednesday, everybody. We have a super active setup taking shape over the next few days and that spells trouble. Rounds of showers and thunderstorms will come at us, putting down a ton of rain. This will cause an increased risk for flash flooding and river flooding through the end of the week.
A Flood Watch continues for much of the state through Thursday night…
A general 2″-4″ of rain will be likely for much of the state. Here's what I'm expecting…
I've talked about how the models were going south with the heavy rain and that's a trend still showing up. The GFS now looks similar to my map…
In addition to the flood threat, a few strong or locally severe storms will be possible, especially west. Here's the Severe Weather Outlook from the Storm Prediction Center…
Here are your radars to track the rounds of heavy rain and storms today…
The cold front finally blasts through here Thursday night, with crashing temps behind it. Readings may hit 70 ahead of the front, then drop into the 20s behind it by Friday morning. A brief period of light snow is possible as the cold sweeps in.
Friday's weather looks good with highs struggling to get past 32 degrees. Lows by Saturday will hit the teens with 30s for highs again.
The next system moving in arrives on Sunday, with a bigger system right behind it early next week. Rain, snow and a mix are all possible during this time…
New GFS
GFS
I will have updates later today. I leave you with your tracking tools for the day…
Have a good one and take care.