Good Sunday to one and all. We are closing out 2017 with bitterly cold temperatures and this will continue through the first full week of 2018. We are in full-blown FROZEN PIPES ALERT mode during this time. This is a dangerous air mass moving in for a prolonged period of time and that will cause some issues.
Let's start with the remaining hours of 2017 and the potential for light snow and flurries. We are likely to see another light snow maker impacting the northern parts of the state, bringing light accumulations that can cover roads again.
Once that zips by, watch the northwesterly wind this evening. It can generate a few snow showers and flurries for those New Year's Eve plans in central and eastern Kentucky.
Now, let's get bitter. Here's a breakdown on the cold coming:
Temps start the day in the single digits for many, with a wind chill below zero. Highs only reach the teens for much of the state with a wind chill in the singles.
Temps by New Year's Moring range from 0 to -5 in the far north, to 0 to 8 for the rest of the state. Wind chills will be from 0 to -10.
Tuesday morning looks to be the coldest of the bunch. Lows hit zero in many areas and may reach as low as -10 in the north. Wind chill temps will be from -5 to -15.
This is a dangerously cold air mass, so take any necessary precautions to get ready for it.
After a "not quite as cold" day on Wednesday, bitterly cold temps return from Thursday through Saturday. Similar numbers to what is upon us, may show up during this time.  This happens behind a huge east coast winter storm that's likely to get going.
The flow behind this will be strong and from the northwest…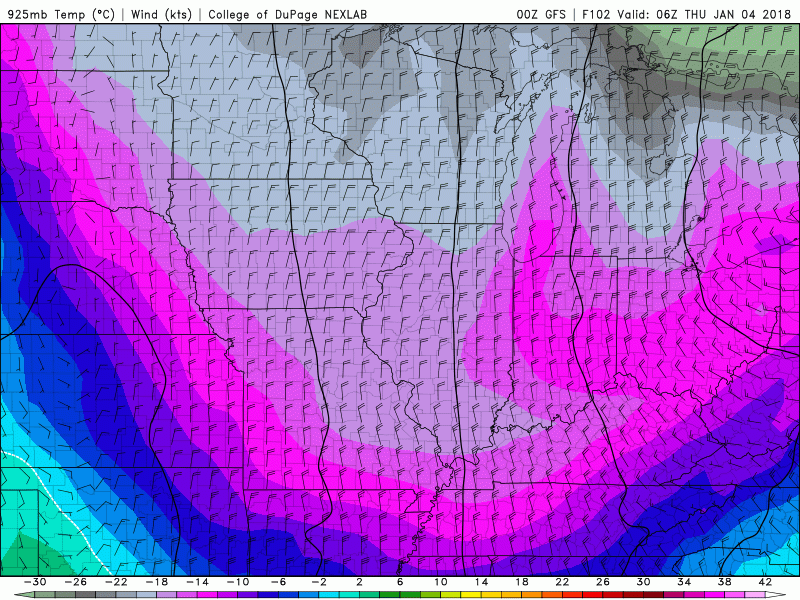 Combine that flow with upper level energy swinging through and you can sometimes get widespread snow showers and squalls. That's a real possibility, and something for us to watch for.
An interesting system will come our way by next weekend, ahead of another big push of very cold air for the following weekend.
I have you guys all set to track today's flakes…
Hamburg Area from WKYT Studio
Lexington

Fifth Third Pavilion Live Cam
Downtown Lexington

I-275 approaching KY 20/Airport
Near Covington

I-71/I-75 at Buttermilk Pike
Near Covington

I-71/I-75 at 12th St.
Covington

US 60 @ US 127
Frankfort

Downtown Louisville @ 2nd & Broadway
Louisville

I-64 at KY-801
Near Morehead

Maysville
Updates will come your way later today, so check back. Make it a good one and take care.