Good Tuesday, everyone. We have a round of rain rolling across the region early today, bringing the possibility of high water issues. The setup for Wednesday looks rather ugly as we watch a more potent system bring widespread heavy rain and the potential for strong storms.
Let's begin with today and roll forward. Rain is with us to start the day and it's going to be heavy at times. This can lead to local high water issues, especially across southeastern Kentucky. Temps will be much colder today and this may even bring a mix or some light snow to far northern Kentucky this morning.
Skies try to dry this afternoon and evening with cloudy skies and a seasonal chill in the air.
Our next system then rolls in here on Wednesday and looks to bring some pretty active weather in here. Heavy rain starts the day as a warm front lifts northward across the state. Winds will be gusty as temps then spike to near 60 by evening in central and eastern Kentucky.
As the low passes by, it drags a cold front across the state and this front will have a potent line of showers and thunderstorms with it. Watch how all this plays out on the Hi Res NAM…
That setup can lead to another 1″-3″ of rain across much of the state. While the greatest flood threat will be across the recently devastated areas, this setup brings a flood risk to much of the state.
It will also bring the potential for strong to severe storms. The greatest severe threat is across central and eastern Kentucky. Here's the latest severe weather outlook from the Storm Prediction Center…
The temp trend on Wednesday is pretty awesome to see as the east spikes and the rest stays chilly. Then, a quick shot of arctic air comes in for Thursday and Friday…
Wind chills by Friday morning are in the singles and may even drop below zero in the west…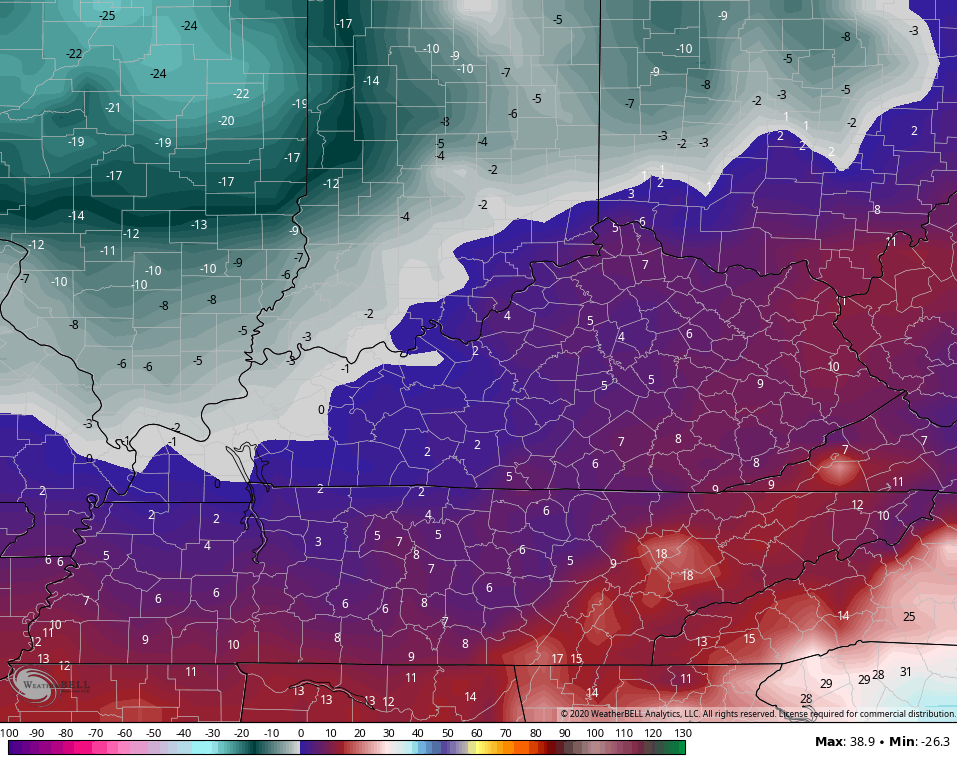 Highs stay in the 20s with a mix of sun and clouds showing up.
I will have updates later today. Until then, here are all the tracking toys you need…
Have a great day and take care.