Good Monday, folks. We have a couple of very nice summer days taking shape across the area to start the week. By Wednesday, we are back into a pattern where heat and humidity ramp up, but rounds of thunderstorms are going to try to help us out a bit.
Let's kick things off with today before looking ahead. It's another pretty comfy summer day with highs mainly in the low to middle 80s under a partly sunny sky. That said, there's still a slight chance for a stray shower or storm in the east early on…
Overall, this is a great day to get outside and enjoy it and that's what your friendly weatherdude will be doing.
Tuesday is a little warmer, but still pretty nice.
We start to feel the steamy changes on Wednesday as temps begin to ramp up. There's a big heat ridge making a run at us for the end of the week through the weekend and into early next week. How hot we get around here is going to depend on rounds of thunderstorms dropping in from the northwest.
The GFS has beaten the snot out of the EURO all spring and summer around here. The EURO can't find rain and has been way overblown with the temps. The GFS is really hitting the storm chances pretty good starting later in the week…
Storms on the edge of heat can really get a little edgy and we will need to be on guard for a derecho or two developing around the big ridge.
It's interesting to look at the "best fit" analogs from the GFS for the end of next week. Check out some of the years I've highlighted in the bottom right…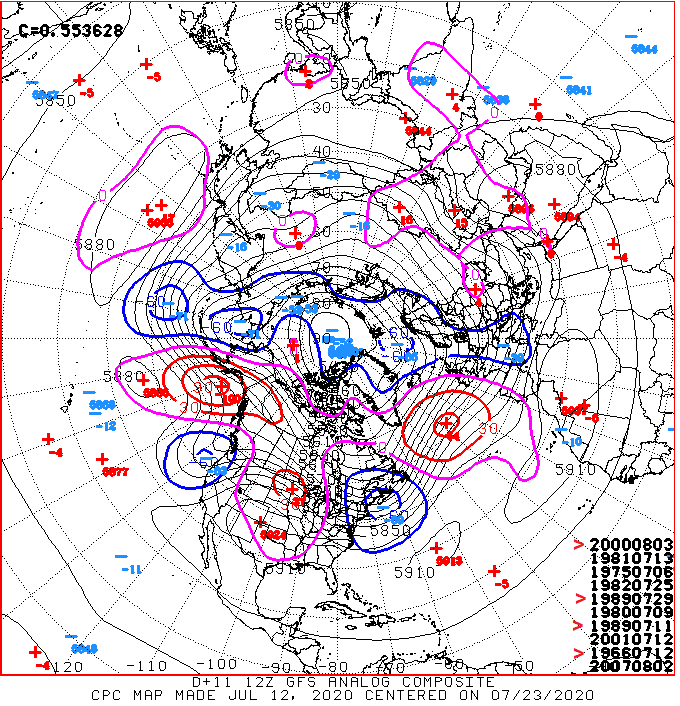 1966 is on the list and that's a year I've talked a lot about since the cold back in early May. 2000 is leading the charge as the top analog with 1989 showing up twice. It's interesting to note 1989 went on to give us the coldest December on record with 2000 giving us the 2nd coldest December on record.
We shouldn't read too much into this, but it was something that jumped out at me when I looked at the list.
Make it a great day and take care.