Update
Good evening, gang. Your friendly weatherdude will be going in to pull tv duty later this evening as the arctic front arrives. You will find me on your tube with updates later in the evening on WKYT and on WKYT at 11.
I continue to keep the same forecast rolling on with no changes. I want to stress… don't waste time tracking snow or dry air from the low pressure system. Our snow comes from the building band of snow that develops behind it this evening and overnight. Snow showers and squalls will follow that up into Monday. Will this setup produce more snow the farther east we go across the state. How ironic would it be for areas under a winter storm warning to get less snow than areas that were never in the warning?
Road conditions will become hazardous as the temps drop and the snow kicks in. A flash freeze with snow on top is going to create a ton of traffic issues tonight and into Monday. Remember… salt won't work with the bitterly cold temps that roll in tonight through Tuesday.
Those temps and wind chill numbers are going to be dangerous! Please respect this cold blast and take all necessary precautions to protect life and property.
Your trackers are below… take care.
Previous Update
Good Afternoon, everyone. The arctic front is pushing into western parts of the state and will roll eastward, but won't clear the state until later tonight. It's just a tad slower moving and that means our temperature drop is going to be that more impressive. Many areas will be more than 50 degrees tomorrow than they are today. Ouch!
Here's the rough estimate of when the front reaches your area…
Overall… NO CHANGES to the thoughts I have had out for days, now. The change to snow behind the front is fast and furious and it's going to snow hard for a while. This band of heavy snow will drop quick accumulations and will combine with a 20 degree temp drop in an hour to create a major ice up of roads.
Snow showers and squalls look more widespread overnight into Monday morning than I was originally thinking. These will have a serious fluff factor and could be similar to the ones we had a few nights ago. The GFS shows these cranking all the way through Monday evening…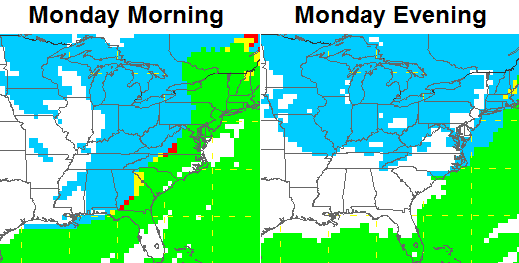 A general 1″-4″ of snow will be likely before all is said and done.
The cold coming in behind the snow continues to be the main story. Readings drop to below zero during the day Monday and will stay there through Tuesday morning. Record lows will be possible both days. Wind chill numbers will approach -30 at times during this time.
Here's a look at the latest advisories and warnings that are out for the region…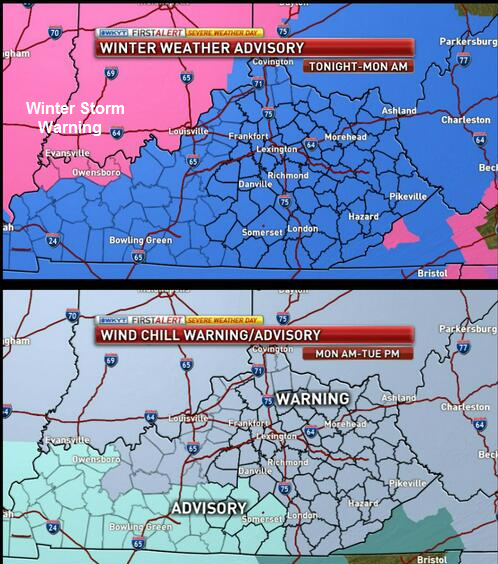 Let's track…
Current temperatures
Winds
I-75 @ Winchester Road Lexington
I-75 @ Iron Works Pike Lexington
I-75 @ Clays Ferry Bridge South Between Lexington and Richmond
US 60 @ US 127 Frankfort
US 127 @ Frankfort Frankfort
I-75 at MP 36 London
I-71/I-75 at Buttermilk Pike Near Covington
I-64 @ 3rd St. Exit Louisville
Downtown Louisville @ 2nd & Broadway Louisville
I-65 @ 234 Near Bowling Green
I-24 MP 4 @ US 60 Paducah
I-24 MP 7 @ US 62 Paducah
I will have updates as needed and will likely grace your TV late this evening on WKYT. Have a great day and take care.