Good Monday, everyone. A major winter storm is rolling across the bluegrass state today and is bringing some shutdown snows. A foot or more of snow is a good bet for parts of the region and that's something we haven't seen since the late 90s.
I don't have the energy to write a lot at the moment and have a super duper long day ahead of me. Let's hit the high notes…
– Snowfall today looks like a widespread 6″-12″ across Kentucky. Amounts of 8″-16″ will be possible across parts of central and eastern Kentucky. Here's a map I put together at work and it still appears to be in decent shape…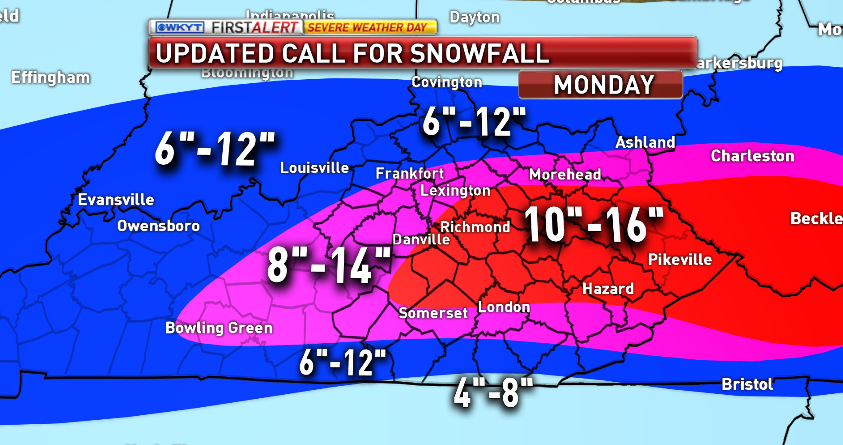 – The only potential trouble areas I see are in western Kentucky and for areas right along the Tennessee border in the southeast. Sleet could mix in and cut down snow totals in these areas. I'm really nitpicking to find something to call "trouble".
– Lexington has a chance to have a top 5 snowiest day on record. We need to crack 9.5″ to get there. This will be one of the snowiest February days ever for Lexington and for other cities.
– Still think we get some blowing snow and minor drifting today.
– Bitterly cold temps will be here Tuesday morning with readings close to zero for some.
– Another arctic system blows in here on Wednesday with snow showers and squalls that can put down additional accumulations. Winds will really increase and blowing snow may be a problem.
– Record cold then moves in for Thursday and Friday. Overnight lows may reach -10 to -15 degrees with wind chills from -20 to -30. Unreal!!
– Another snow system tries to move in this weekend.
I will have updates as I can throughout the day. Most of my day will be spent doing my real job on WKYT-TV. We will be on the air all day with live reports from across the state.
You can help us out by reporting the weather conditions from where you live. I leave you with all your tracking tools…
Enjoy the snowstorm and take care.