Good afternoon, folks. It's full steam ahead toward a full-blown winter pattern developing next week, with the potential for this pattern to get downright nasty in the coming weeks. It's been a well telegraphed pattern, that gets stronger looking as we get closer.
I'm not going to rehash all my thoughts from the past few weeks in how this pattern comes about. Feel free to go back and read all the prior posts dealing with the evolution. 🙂
It looks like we start the change on Monday with showers and storms increasing ahead of a potent cold front. Temps ahead of this front will likely surge well into the 60s on a very gusty southwesterly wind.
The question then becomes, do we get a wave of low pressure to develop along the front? The pattern argues for that and recent runs of the Canadian and GFS models have shown this. If we get that wave to develop, it could give us our first snow chance by Tuesday night into early Wednesday.
Here's the Canadian…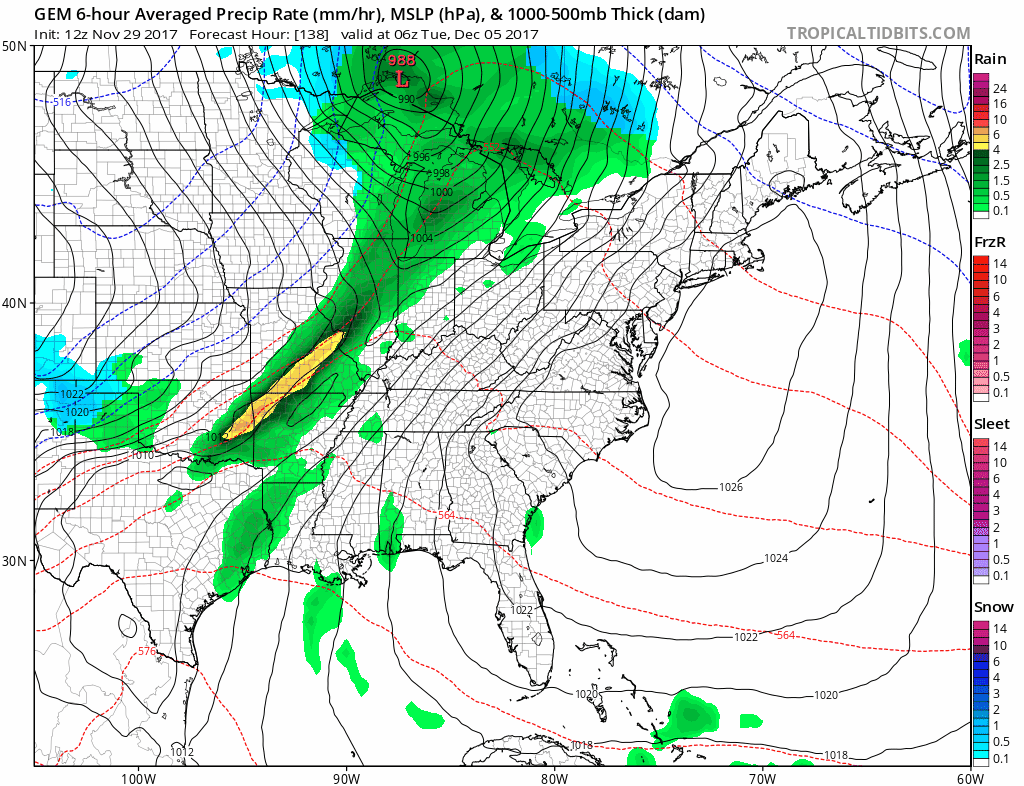 6z GFS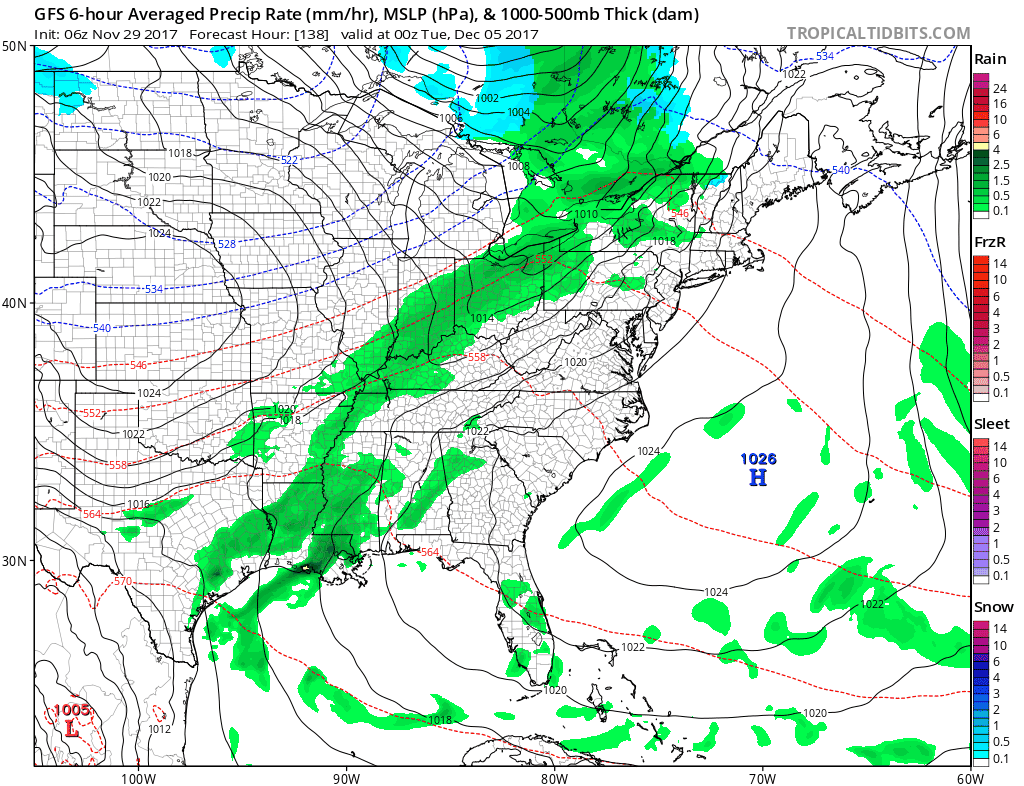 Snow or not  behind that front, the cold air crashes in with a 40 degree temp drop looking likely.
The European Model has been all over a system diving in from the northwest by later Thursday and Friday. The GFS is also showing this…

That could be a snow maker across the Ohio Valley, if it is indeed a real feature. Temps during this time will continue to drop as arctic air pours in.
The GFS wind chill map late next week…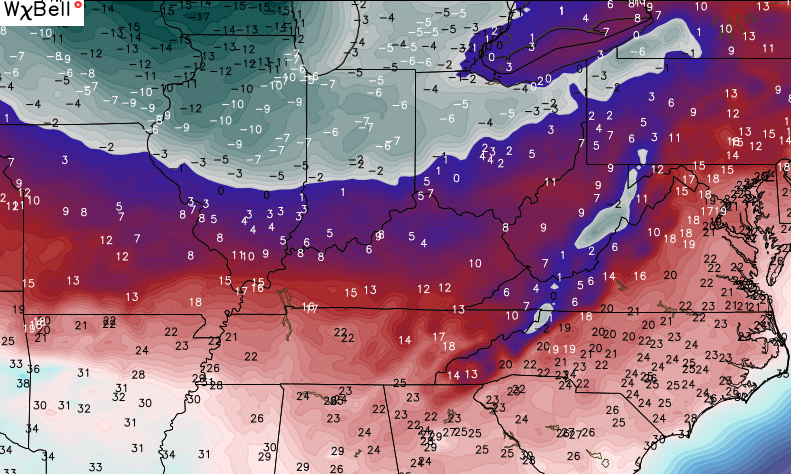 If we continue to look at just the upper levels, we find a pattern that's reminiscent of some of the great winters of the past. High latitude blocking forces all the arctic cold from the North Pole and Canada, deep into the United States. Watch how this pattern keeps repeating itself over the next 2 weeks…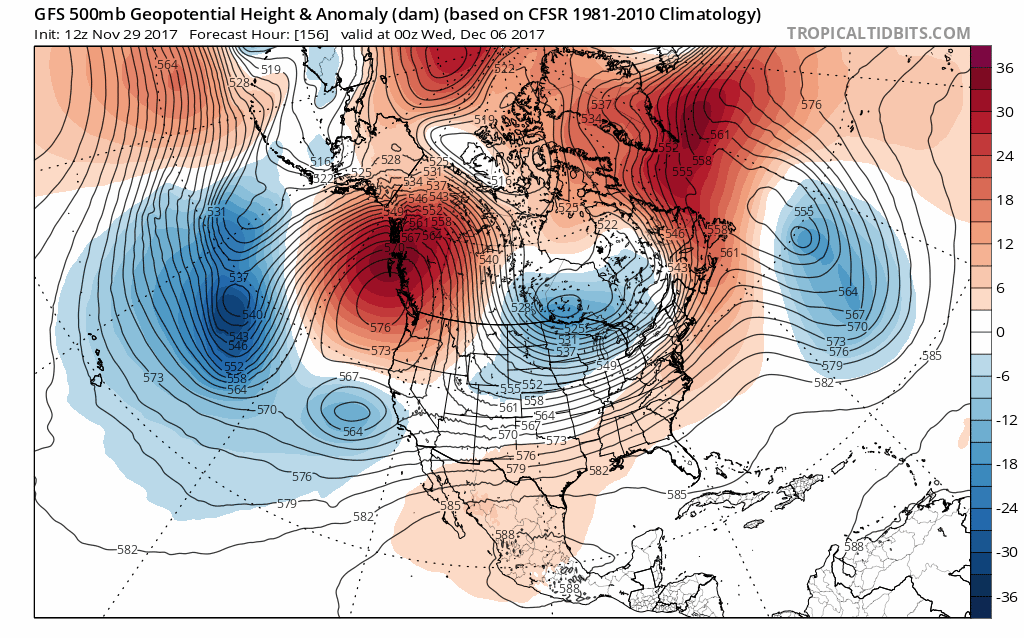 I told you last night you would start hearing the term Polar Vortex. Right on cue.. I see it all over twitter this morning. 😉
I will have another update this evening and on WKYT starting at 4pm. Enjoy the rest of your day and take care.