Good Saturday, everyone. We have a light snow maker diving into the region today, bringing the potential for a light accumulation to parts of the state. It's the first of, at least, three clippers showing up over the next week or so.
A band of light snow dives southeastward out of India this morning into the early afternoon areas. This can coat the ground in some spots as it does so. Once it passes, winds become northwesterly and really begin to crank up by evening. That northwesterly wind will pick up some moisture from Lake Michigan and cause snow showers to develop across central and eastern Kentucky.
Light accumulations are possible, ranging from a coating to an inch in many areas. The best chance for a full blown inch or locally higher may be across the higher mountains in the southeast.
We will need to watch for a few slick spots to develop, especially in the afternoon and evening.
Wind chill numbers reach the teens late today into the evening as those northwesterly winds get cranking. Sunday morning wind chills may drop into the single digits at times. Brr
Sunday is a very windy and cold day and I'm watching a sneaky system trying to skirt the northern and northeastern parts of the state. That could produce some flakes as it scoots into Ohio and West Virginia…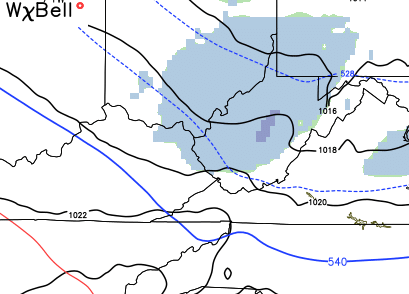 Winds may reach 35mph at times on Monday as another system dives in from the northwest. This is likely to produce a period of light snow and snow showers for Tuesday, with additional systems later in the week.
For now, it's all about today's light snow maker. Let's track it…
Hamburg Area from WKYT Studio
Lexington

I-75 @ Newtown Pike
Lexington

I-75 @ Winchester Road
Lexington

I-75 @ Iron Works Pike
Lexington

I-275 approaching KY 20/Airport
Near Covington

I-71/I-75 at Buttermilk Pike
Near Covington

I-75 MP 127
Georgetown

I-64 at KY-801
Near Morehead

US 60 @ US 127
Frankfort

US 60 @ Chenault Road
Near Millville

Downtown Louisville @ 2nd & Broadway
Louisville

I will update as needed later today. Have a good one and take care.