Good Sunday and Merry Christmas Eve!  If you know anything about your friendly weatherdude, you know I am a Christmas nut, so I always love this time of year. Throw a little snow into it all and I go into full 5 year old Christmas CB mode. 🙂
I have no changes in the overall thought process for how things roll out there today. Here's a recap:
Our day starts with the potential for some slick spots on area roads, but the main action won't arrive until this afternoon and evening.
Temps spike ahead of the precipitation moving in, with eastern Kentucky hitting 40.
A mix of rain and snow quickly develops with a rapid switch to light snow across the west and central parts of the state. That switch waits a little longer in the east.
A period of light to moderate snow then sweeps across the state, leaving behind light accumulations into Christmas morning.
With wet roads and temps crashing quickly through the 20s, icy roads are likely to develop Christmas Eve.
How much snow will actually fall? Here's the Latest Call For Snowfall: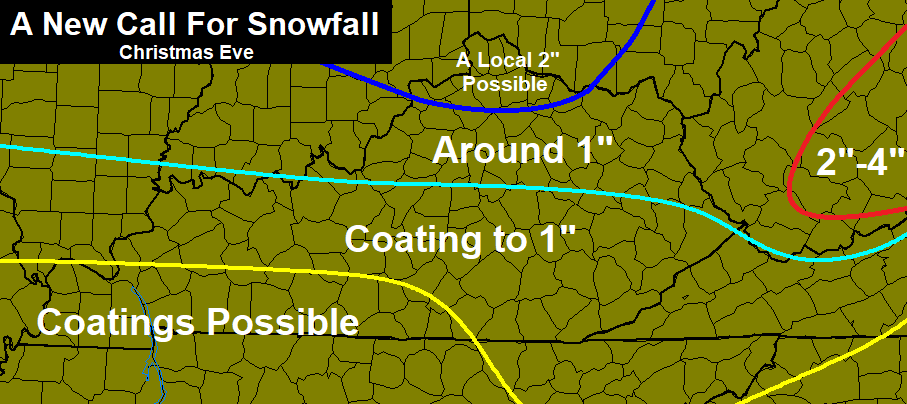 The lines are just there to provide a rough estimate on where the best accumulations setup. There may be some pockets of lower and higher amounts showing up within all that.
That's not a lot of snow, but it can cause some big travel issues after dark.
Flurries carry us into Christmas Morning, with a very cold day taking shape. Clouds will try to break somewhat, but another system is zipping in here Christmas night and Tuesday,
You can see this well on the Hi Res NAM…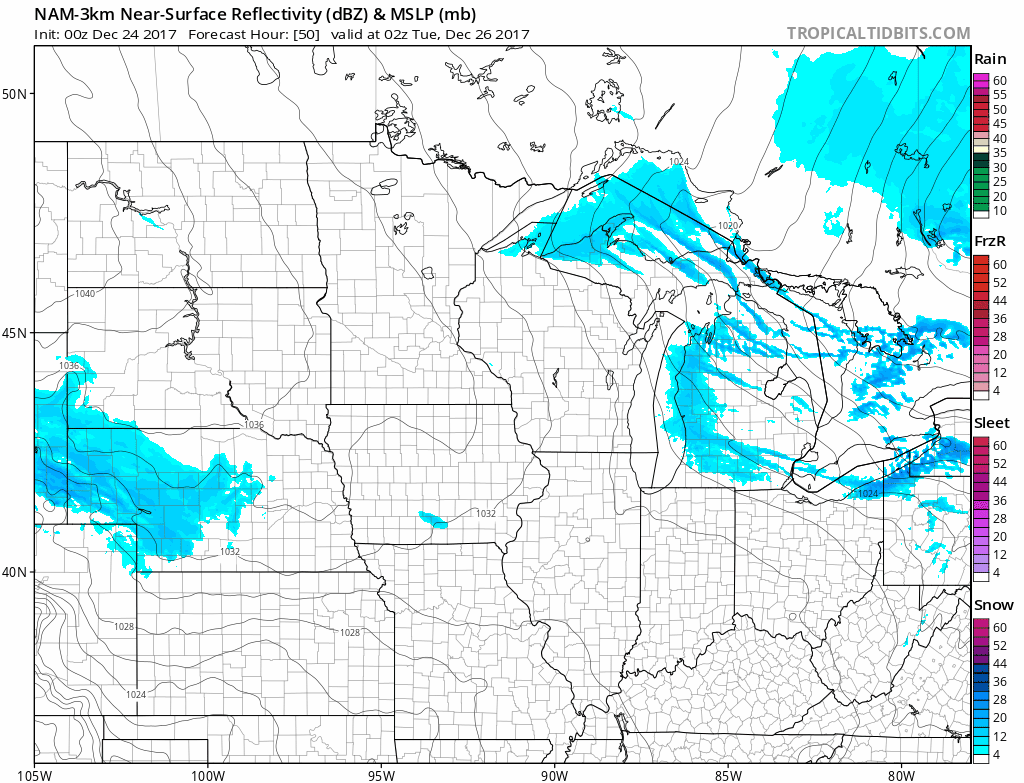 The 12km NAM is also picking up on that and another one right after it…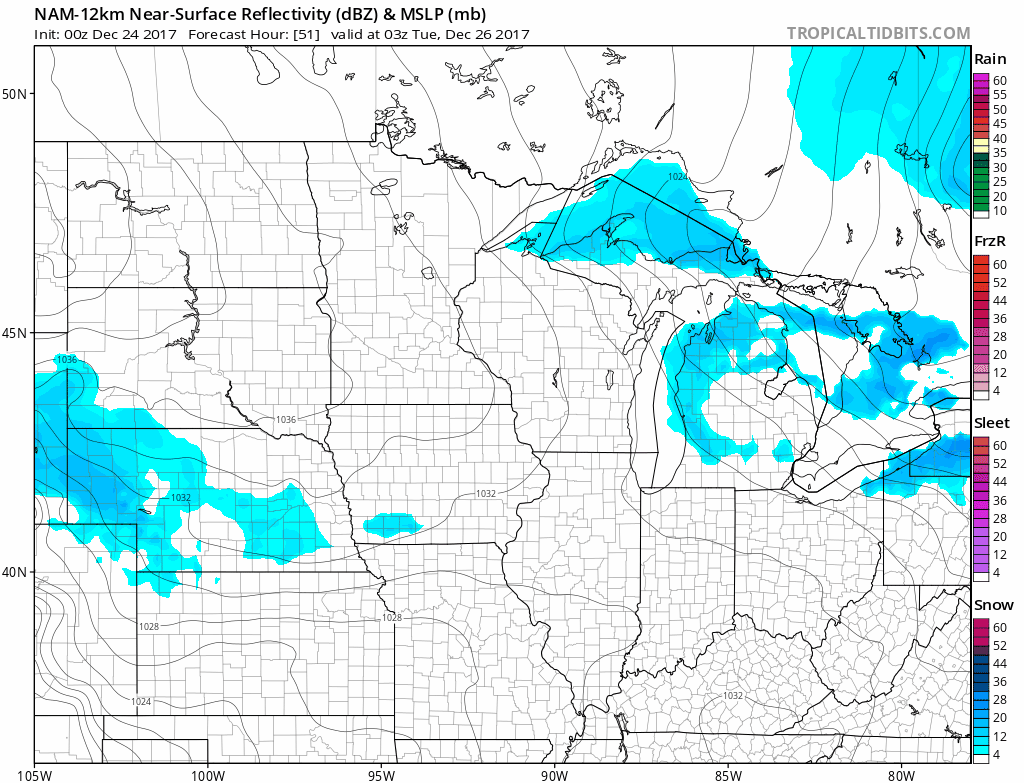 Don't be surprised if both of those don't put down some 1″ snows around here.
The next system arrives by Thursday and Friday and may become a bigger snow producer around here. The models have shown this consistently for a while now…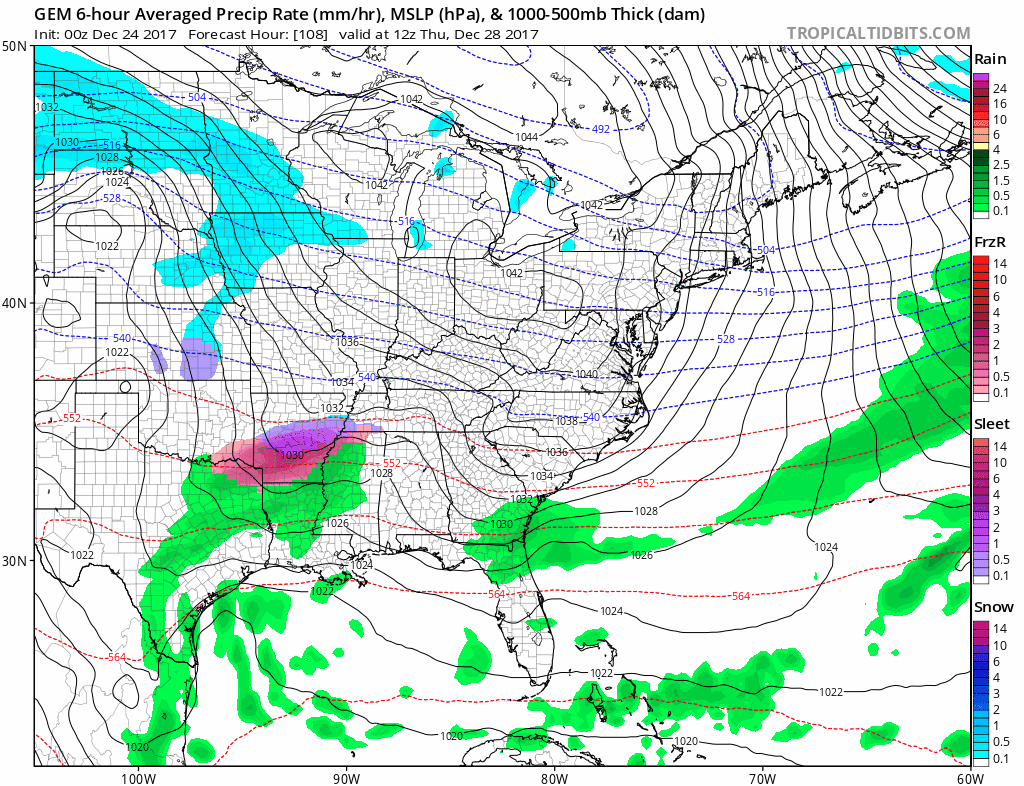 Similar systems try to follow that up for New Year's weekend into the first week of 2018.
In addition to the snow threat… the pattern features brutal air continuing to take control of much of the country. The Canadian goes crazy with the cold before we end the year…
I will have updates later today, so check back. Merry Christmas Eve and take care.