Good Sunday, folks. Our plains heat ridge is flexing some muscle into western Kentucky and that's putting the region into the thunder zone. Rounds of thunderstorms will kick in late today and carry us on and off through the upcoming week. Some of these may be strong and put down a lot of rain in a short amount of time.
Let's kick things off with what's happening out there today. Highs will reach the mid and upper 80s for much of central and eastern Kentucky, with far western Kentucky topping out into the low 90s. It will be on the leading edge of those temps that we likely find a complex of thunderstorms developing and rolling from northwest to southeast. We will need to be on guard for some big rains from that kind of system, especially in the west and central parts of the state through tonight.
Here are your Sunday storm trackers…
Monday will be another day to watch for northwest to southeast moving clusters of thunderstorms. This is a setup we will likely hang onto through the middle of the week…
That's actually a weak front dropping in here and it knocks the numbers down from the next few days. That also hangs tough as an upper level low develops on top of us for the rest of the week and into the weekend. That will fire up additional rounds of showers and storms…
Once again, strong storms and heavy rains will be possible. The EURO rainfall totals over the next week and change…
That is being pushed by another trough digging into the eastern part of the country. This would bring another round of below normal temps…
The control run of the European Ensembles show a trough in the east deep into the second half of August…
Most of the models indicate the next two weeks will average wetter than normal, too. The GFS Ensembles are most emphatic with the wet look. Here's the average deviation from normal..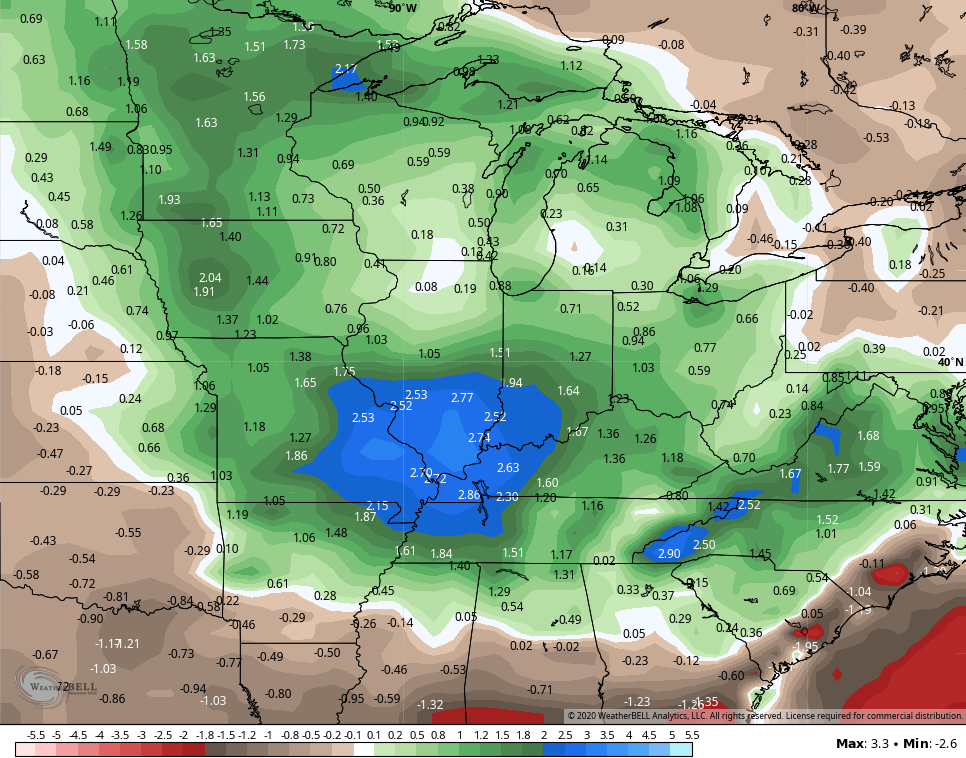 I may throw you another update later today, so check back. Have a great Sunday and take care.