Good afternoon, everybody. The current weather pattern continues to be absolutely amazing and it has a few more days left in the tank. By the end of the week, some moisture from what's left of Beta will filter into the Commonwealth. That will be ahead of a much bigger change rolling in here later this weekend and early next week as a big fall storm system develops.
Let me kick things off with the weather out there today. The morning actually started with the chilliest temps so far…
For the third straight morning, some areas of the state saw lows in the upper 30s. Check out this morning's top 10 coldest lows from the Kentucky Mesonet. #kywx pic.twitter.com/dNtYwIMSxT

— Chris Bailey (@Kentuckyweather) September 21, 2020
Those numbers even led to the first reports of patchy frost in a few spots…
A touch of frost this morning in Wolfe County. This pic from @calebjspencer1. #kywx pic.twitter.com/YdQmDwaGrf

— Chris Bailey (@Kentuckyweather) September 21, 2020

Lows tonight may drop back into the upper 30s in those cold valleys, but much of the region will once again be in the 40s. That sets the stage for another day of highs from the upper 60s to middle 70s for Tuesday as a few more cloud filter back in. Those clouds will then thicken a bit on Wednesday as moisture begins to stream north from what's left of Beta down in the Gulf of Mexico. That system is about to finally come onshore in Texas…
This will bring a few showers and storms into the state by Thursday and Friday.
From there, we watch two systems set to impact the region. The first comes in the form of a Sunday cold front, bringing showers and a few strong thunderstorms. That's quickly followed up by a potent fall storm system set to bring rain, wind and a blast of cold air…
EURO
GFS
Both the GFS and EURO bring the 540 thickness line into Kentucky for the final day of September and that's pretty remarkable. This setup unleashes a lot of cold air next week that may keep coming at us into early October…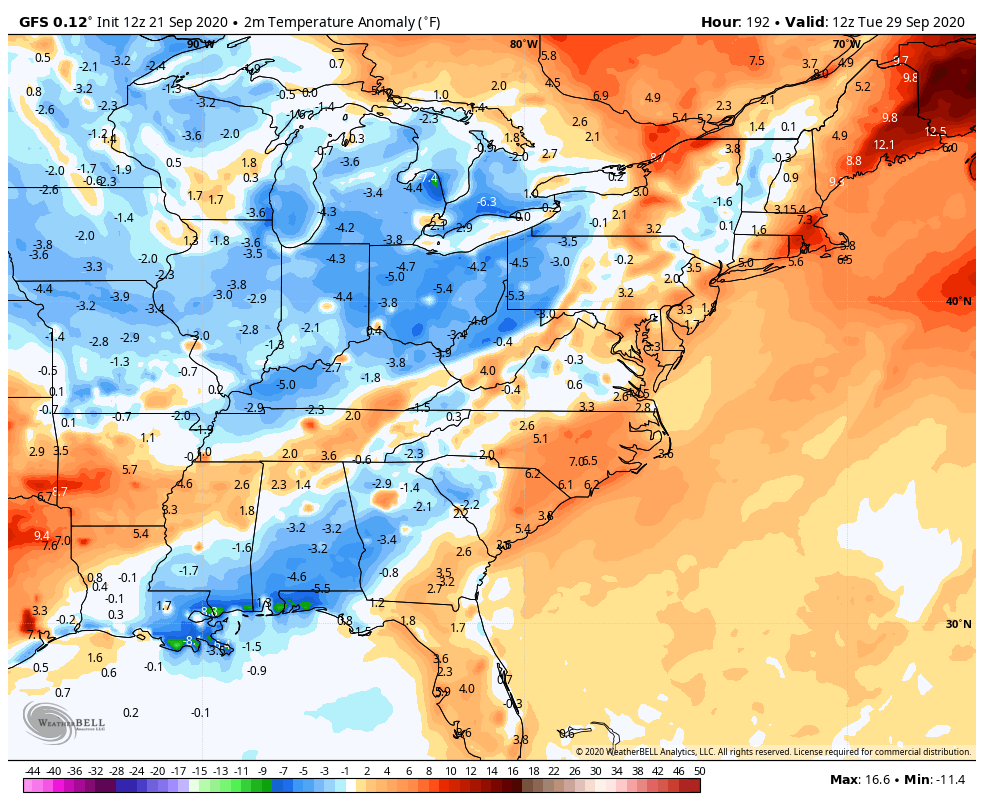 This sets the stage for a potential early season frost/freeze threat across much of the region.
Enjoy the rest of the day and take care.