Good Tuesday, everyone. Our fantastic stretch of fall weather is just about to come to an end as our pattern gets ready to kick into high gear. This setup can feature a couple of big systems working in here this weekend into early next week. It's one that will threaten to bring an early season frost or freeze threat into our region before next week is finished.
The weather today is awesome. 'Nuff said. 🙂
Clouds will increase as we go into Wednesday as an upper level system begins to get a little closer to Kentucky. This is just north of what's left of Beta down along the Texas coast…
The chance for a few showers and storms will push into the region as early as Wednesday night and be with us through Thursday and Friday. This stuff doesn't look terribly widespread, but the chance is there. You will also see the temps come back up, especially at night.
This is when the pattern starts to look more like a cold weather season setup than early fall. We get one front in here on Sunday and we will see a big increase in showers and storms ahead of this. A few of the Sunday storms may even be strong. A much stronger system dives in behind this with more showers and storms for Monday, with gusty winds and chilly showers behind it for Tuesday. This is being pushed by a DEEP trough diving into the region. The models have the usual timing and magnitude differences, but are all singing a similar tune…
GFS
CANADIAN
That could be a big wind maker as much colder air comes in behind that for the middle and end of next week. Well below normal temps should then carry us through the opening days of October…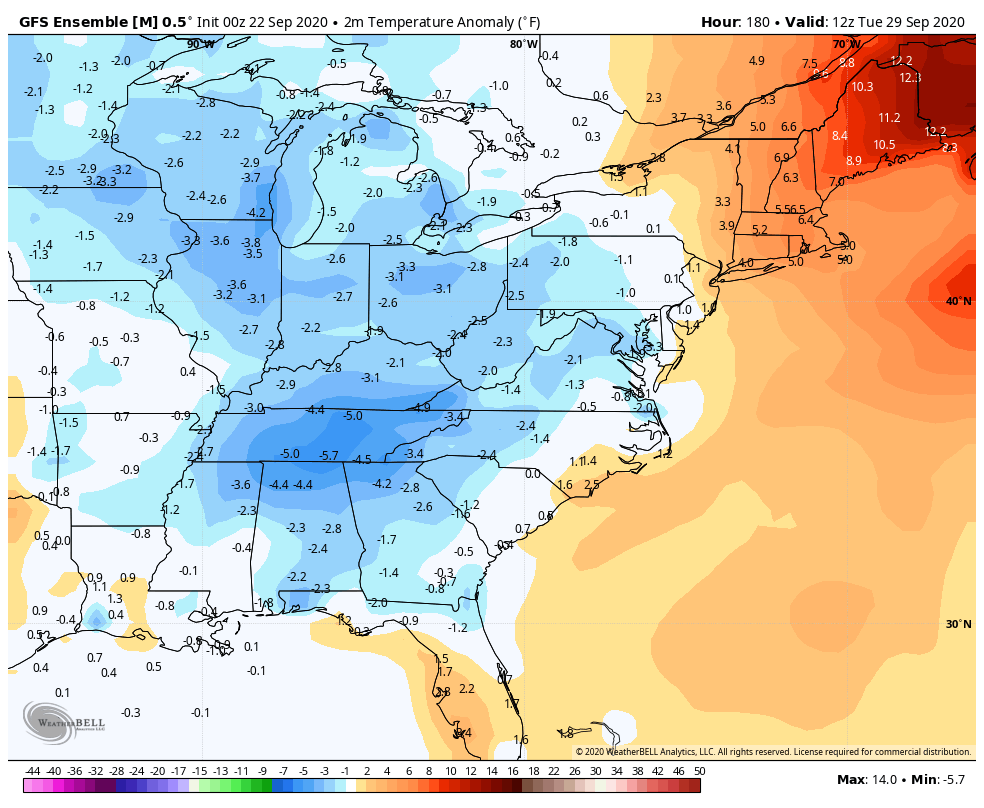 Again, the whole pattern is the polar opposite of the pattern we had at this same point last year. But, y'all knew this weeks ago. 🙂
I will have another update later today so check back. Make it a good one and take care.