Good afternoon, everyone. The remnants of Hurricane Delta continue to track toward the region, bringing the heavy rain potential for parts of the state. This is targeting the southern and southeastern areas of Kentucky with the most rain. As we look into next week, we find cold fronts taking center stage as we go into a winter looking overall pattern.
The super sharp rainfall gradient I've been talking about is very evident out there today. This has set up just a little farther south than I originally thought and this looks to continue through Sunday. The heaviest rains continue to aim toward areas south of Interstate 64 during this time. A few inches of rain will be possible across the southern half of the state, but totals north of 64 may wind up pretty wimpy.
Here are your radars to follow along…
Monday is a very windy day as a fall cold front slams in from the west during the evening. This brings a broken line of showers and storms with it…
Temps in the 70s will be noted ahead of the front, but will quickly drop as the boundary blasts through…
Some very nice weather then follows this up for Tuesday and Wednesday as we watch an even colder blast of air show up by the end of the week into the weekend. This should bring an end to the growing season for much of our region as a HUGE dip in the jet stream shows up right on top of us. At times, various models have been trying to deepen this trough enough to spit out some flakes very close to the state.
The Canadian is the latest model to do just that…
That actually does bring some flake action in here. The EURO is close, but doesn't quite get there…
That's some very cold air for this time of year, but it dives in and out as a more stronger and more prolonged change dives into the Rockies and plains. This is a straight up winter looking pattern that, I think, has a a shot at bringing the threat for flakes in here late the following week. Does this look like something from October?
The European doesn't go out as far as the GFS does so it only picks up the first system being shown above. However, the EURO is farther east with that first system…
The GFS Ensembles snow map for the next 2 weeks is picking up on flake potential…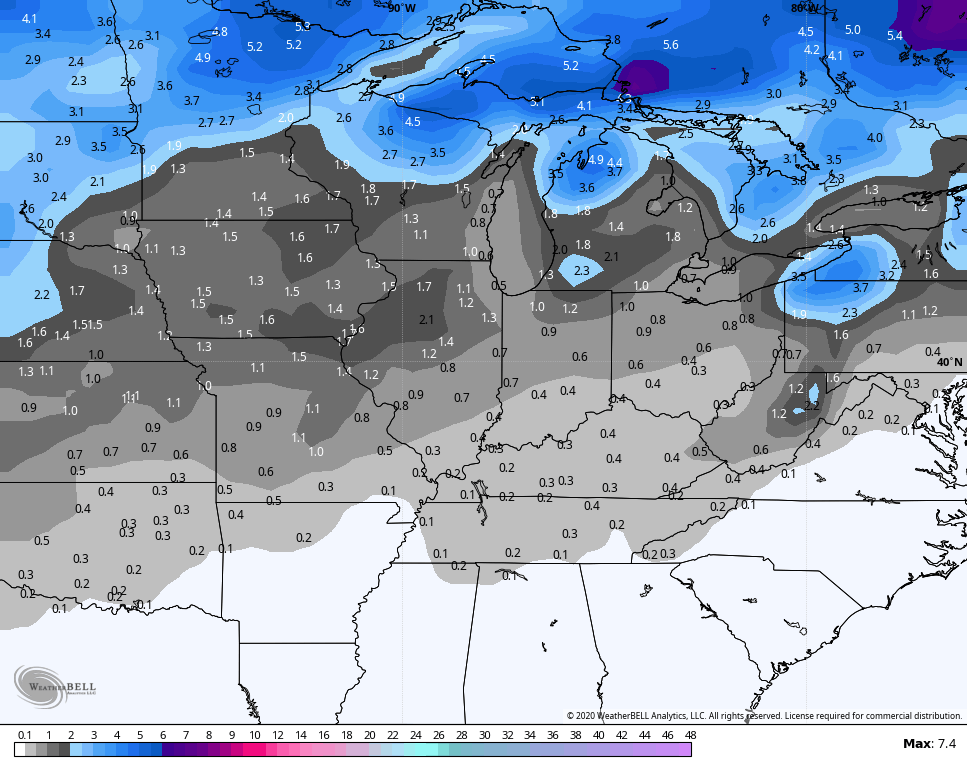 The past 3-4 years, we were essentially in a repeat pattern of weather with all those years being very similar. This summer and fall have finally broken the mold. This is especially true of the early fall which has been the opposite of last fall and much different than recent years, too. This is likely to carry over into, at least, the early part of winter.
Enjoy the rest of your day and take care.