Good afternoon, folks. Heavy rain continues to track across the region today, bringing the threat for local high water issues. This is along and ahead of a slow-moving front that gets ready to lift back to the north in a few days. That allows for much milder air, but the next fronts are already targeting the region from Friday into next week. That's when winter changes try to show up.
Some areas of northern and western Kentucky have already picked up 1″-2″ with local 3″ rains. This matches up well with the area we've been focusing on for the past several days…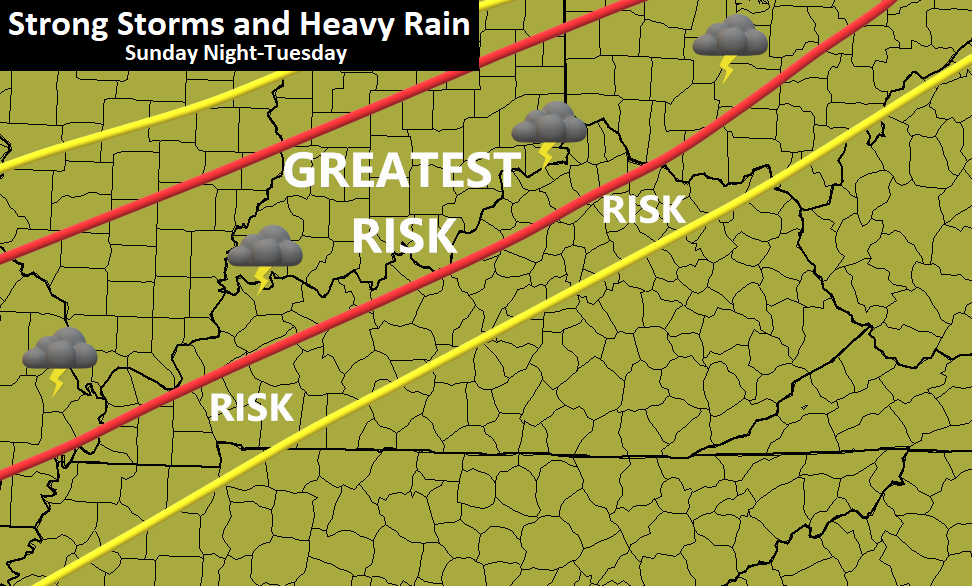 Additional rounds of showers and storms rumble across some of these same areas and may even sink farther south and east for a time today. For those areas already drenched, we will need to watch for local high water isssues.
Here are your radars for the rest of the day…
Scattered showers and storms roll through Tuesday as the front starts to lift back to the north. This allows for a VERY mild flow to set up into Wednesday and Thursday.
As this is happening, the tropical system we've been yapping about since last week is finally developing in the Atlantic. Epsilon is on the way to becoming a hurricane as it heads to near Bermuda…
You can see what a slow-mover that is forecast to be through Saturday. It's essentially causing a traffic jam with the pattern behind it across North America. When that finally decides to move away will be the determining factor on how the next few systems impact our weather.
By Friday, some moisture streams northward from the Gulf of Mexico and interacts with a cold front moving in. That leads to showers and storms that may linger into Saturday…
The models go back and forth on how fast that tropical system gets out of the way. The more resistance it offers to the deep trough moving east, the more of a threat there is for round of heavy rain and storms around here…
The broad view from the EURO for the same time period…
The faster the tropical system moves away, the colder it gets and would bring the opportunity for some late October flakes into our region.
For those of you who have been regular readers over the years, I hope I've impressed upon you just how important the tropics can be to the overall pattern around here. They can alter overall patterns in a huge way.
Enjoy the rest of the day and take care.