Good afternoon and Merry Christmas Eve. Snow will quickly take control across the eastern half of the state as low pressure develops along our arctic front. This is going to drop several inches of snow in the east with lighter amounts the farther west you get. In addition to the actual storm in the east, snow showers ands squalls may cause problems in central and parts of western Kentucky.
As of early afternoon, Winter Storm Warnings and Winter Weather Advisories are out for much of central and eastern Kentucky…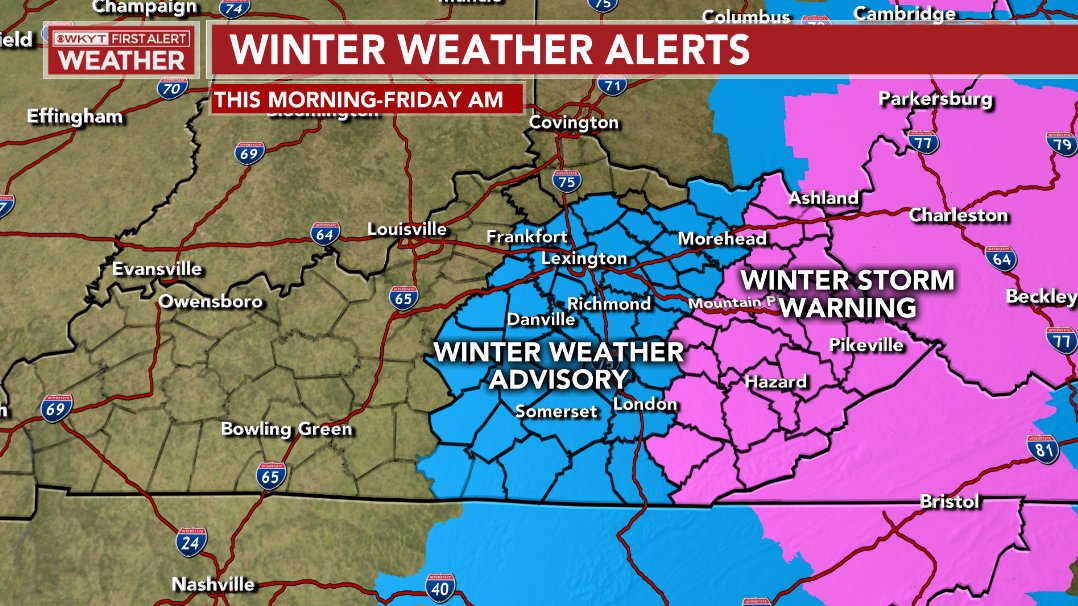 How amazing is it to see THAT map on Christmas Eve?
An icy glaze and flash freeze are showing up in the transition zone from rain to snow. This will add an additional layer of travel troubles as the day wears on and temps continue to crash through the 20s.
The snow shield engulfs eastern Kentucky this afternoon and evening and will even spread back west for a time into the early evening. At the same time, snow squalls will develop in a west to east fashion and can put down a quick inch or so of snow and reduce visibilities. Another round of light snow then shows up Christmas Day.
I'm going to ride with my current call as the Last Call For Snowfall…
I could push that coating-2″ line a bit west to account for the snow squalls developing.
The Weather Prediction Center has the Slight Risk for 4″+ snows back into central Kentucky with a Moderate to High Risk in the east…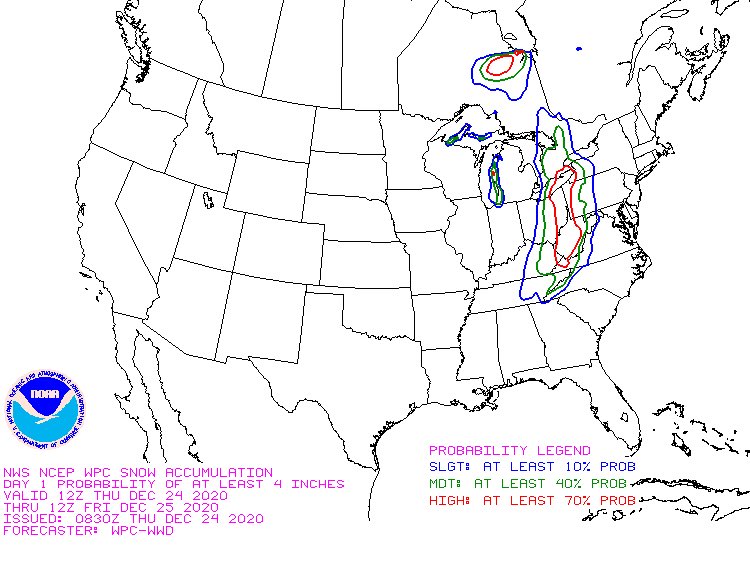 In terms of the forecast models, let's start with the short range Hi Res Models and go from there. The HRRR is showing a big hit in eastern Kentucky and also shows those snow squalls in central Kentucky doing some serious work…
That map only goes through 5am Christmas Morning.
The RAP also shows a big hit for eastern Kentucky and you can clearly see the snow bands into central Kentucky…
The Canadian Models continue to do what they've been doing for the past few days…
Canadian
Short Range Canadian
The EURO is west of earlier runs…
The American Models really really struggled over the past few days, but seem to be getting in line with everything else. They're still not seeing the squall action very well, though…
GFS
HI RES NAM
NAM
Wind chills during this time continue to drop and will be near zero tonight into Christmas Day. Ouch!
I'm off work today, but will be updating things here on KWC. Here are your radars to track the band of snow across eastern Kentucky and the squalls developing for the rest of the region…
Merry Christmas Eve and take care.