Good Sunday, everyone. Our super active pattern kicks off later today with gusty winds and the potential for strong storms to develop and sweep across the region. This is the first in a series of systems set to impact the weather around here over the next week and some can bring winter weather to the region.
Southwest winds increase today and that boosts temps into the 60s before all is said and done. A scattered shower or thunderstorm will develop as the day goes on, but most stay dry. This changes this evening and overnight as a line of showers and thunderstorms develops and races across the state. This shows up well on the future radar from the Hi Res NAM…
This line may produce strong or a few severe storms and the Storm Prediction Center continues to highlight this potential…
Damaging winds are the main player with this line, but a quick tornado spin up can't be ruled out. With or without severe storms, winds may gust to 50mph at times along and ahead of the front into Monday morning.
Rainfall amounts of 1″-2″ will show up for some people and that may come fast enough to produce local high water issues.
Cold air crashes in behind this front as temps drop into the upper 30s by Monday afternoon. There's still a small chance for a few flakes to show up on the back edge of the rain shield, but it scoots through here before the cold can fully catch up.
This cold then settles in for a much colder than normal Tuesday. Highs may not get much above the freezing mark. Here are the NAM temps from 7am-7pm Tuesday…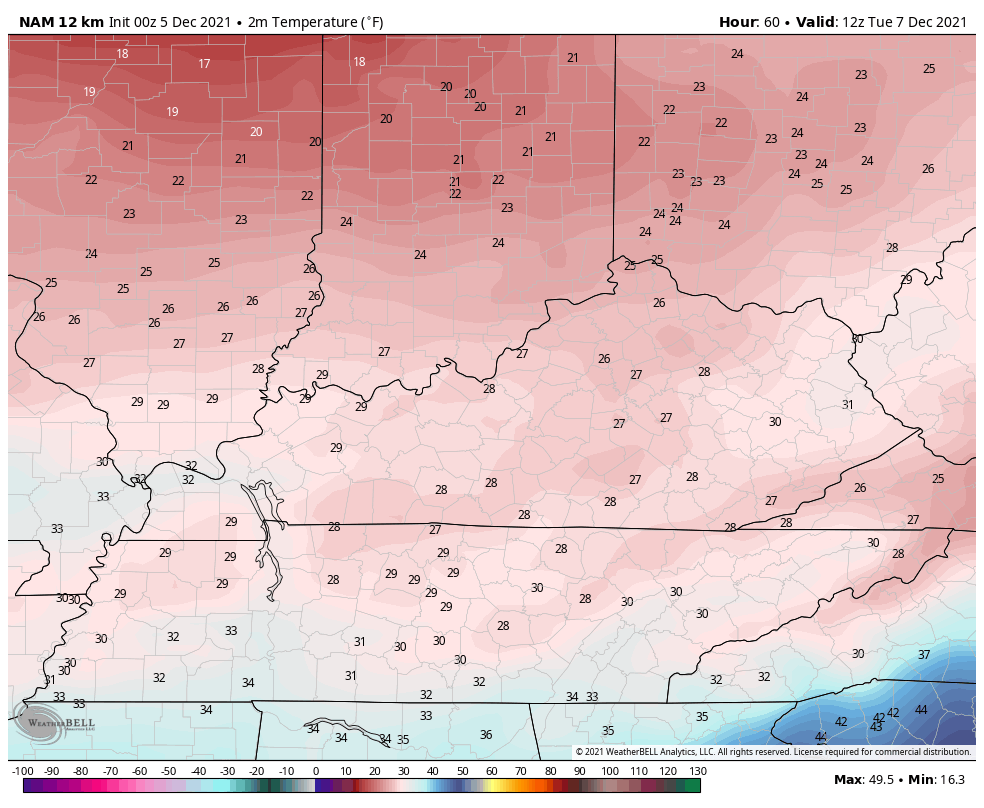 Gusty winds make it feel much colder through the day with wind chills in the teens early on Tuesday,
That cold air is then firmly in place for the next system moving in late Tuesday night and Wednesday. This has the look of a light snow maker across parts of our region.
The GFS continues to make this into a big storm system for the eastern half of the country with light rain and light snow here…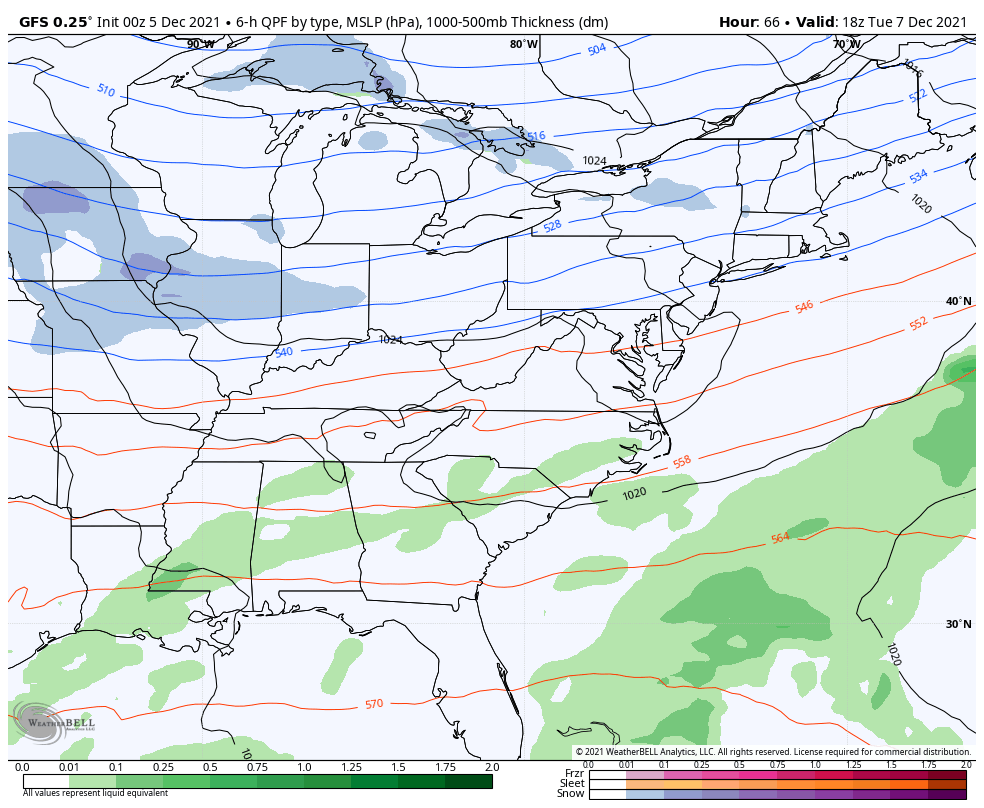 That's a big hitting snowstorm across the northeast.
The Canadian has a mainly light snow maker, especially in the east…
The short-range Canadian only goes through 7am Wednesday, but shows a nice band of light snow developing…
The EURO is the wimpiest of the bunch, but still has a swath of light snow for many…
The pattern doesn't take a break after this as another weak system moves through late in the week with a bigger storm, or series of storms, moving through this weekend. The GFS has a heavy rain/storms to some snow…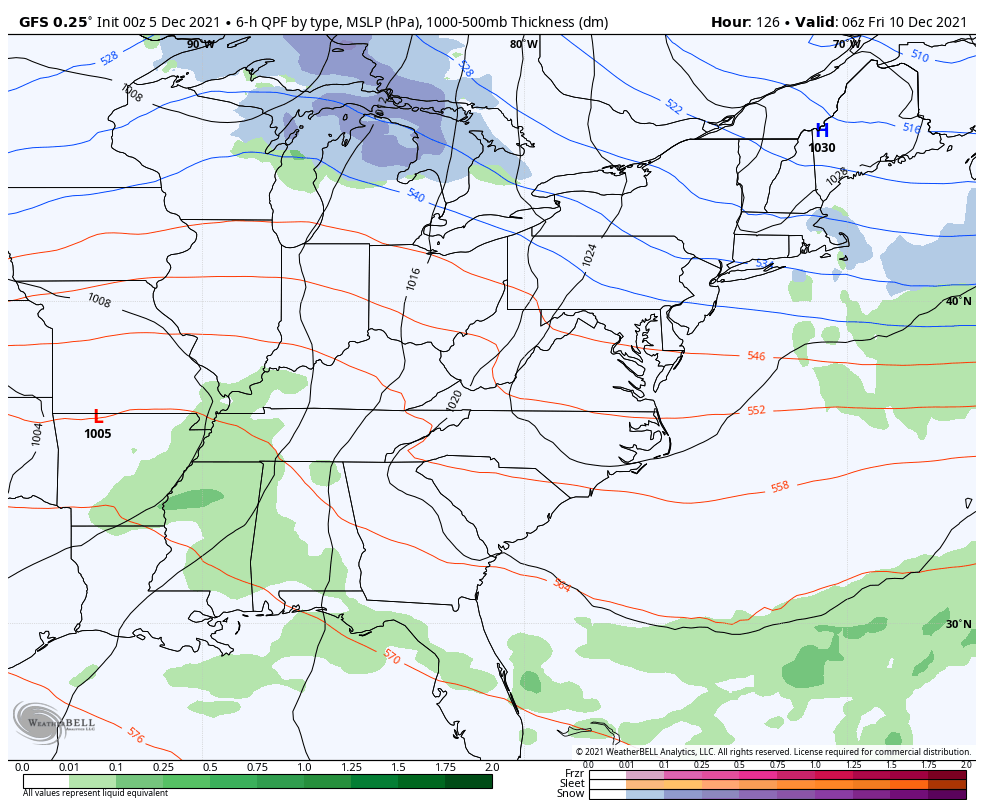 The EURO has a much better snow look…
The Canadian is slower and has more of a heavy rain look…
I've really been trying to raise the concern of this being a pattern that can produce a lot of rain in our region and I'm still sounding the alarm on this possibility. The rainfall numbers from now through next Sunday continue to be alarming…
GFS
CANADIAN
EURO
I will have updates later today, so check back. Until then,
I have you all set to track storms across our region. Don't forget to use our exclusive interactive radar. You can even make this a separate full screen window…
Possible Watch Areas
Have a great day and take care.