Good evening, folks. An arctic front is working into the region right now and it has a developing wave of low pressure along it. This will set us up with another accumulating snowfall for much of the state, with the increasing potential for some higher totals across central and eastern Kentucky.
Just about the entire state is under a Winter Weather Advisory…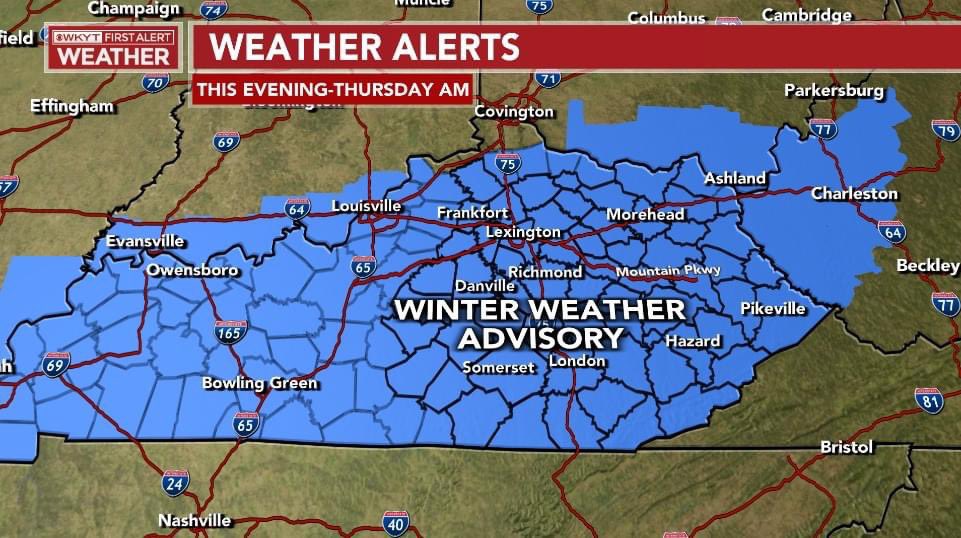 Watch for a portion of this to possibly get upgraded to a winter storm warning at some point tonight.
I told you earlier I may adjust my snow map a bit south and that's exactly what I've done…
This isn't nearly as much snow as the previous two systems, but it's going to have a major impact on travel tonight and Thursday. All that water freezes up and then we get some snow on top of it. It really doesn't matter if you get an inch or less or 4′ or 5″… roads are going to become super slick.
I will have the latest update on the snowfall and make any last minute adjustments on WKYT News at 10 on the CW Lexington and on WKYT News at 11.
I have you all set to track the rapid changeover to snow from northwest to southeast…
LEXINGTON
LOUISVILLE
COVINGTON AREA
BOWLING GREEN
E-TOWN
MAYSVILLE
LONDON
CORBIN
SOMERSET
MT. VERNON
PIKEVILLE
Mt. Parkway near Slade
MOREHEAD
JENKINS
PINE MOUNTAIN
FRANKFORT
GEORGETOWN
Make it a great evening and take care.