Good Wednesday, folks. The day before Thanksgiving is a special time here on KWC. It's the time we pause to pay tribute to one of the best seasonal movies ever… Planes, Trains and Automobiles. If you haven't had a chance to check it out, give it a watch and thank me later.
Millions of Americans are hitting the highways, the byways and the skyways on this busiest travel day of the year. Thankfully, we have amazing weather out there today in our region as temps continue to run milder.
This milder air is a far cry from the past few weeks as we have been in the November version of the icebox. Look at temp departures across the country over the past 10 days…
That's incredibly cold, folks. It's a pattern likely to repeat later in December. I'll get into that a little later.
Let's focus on the updated Thanksgiving Weekend breakdown:
Clouds increase on Thanksgiving with rain moving into western Kentucky by late afternoon. Temps range from the upper 50s to low 60s.
Rain overspreads the rest of the state for Thanksgiving night into Black Friday. That busy shopping day looks rather gloomy with rain and chilly temps, especially early on.
The main storm system arrives from the southwest on Saturday. Rain and wind will increase with this.
The upper low spins on top of us Sunday with showers, gusty winds and chilly temps.
Wind gusts from all this may top 40mph at times.
Can some wraparound rain or snowflake action take us from late Sunday into Monday morning? Probably not.
Snow lovers be like…
This first round of showers moving in continues to show up better on the GFS than other models. Given the fact the GFS has been a little ahead of the game this week, we have to give it the proper attention. Check out the totals through Friday…
Of course, the other models with lower totals are looking at the GFS like…
The main storm then rolls our way on Saturday and it will pack a punch. Gusty winds and heavy rains overspread the state from southwest to northeast. We continue with showers and chillier winds blowing on Sunday and, perhaps, into early Monday…
Check out those wind gusts…
Gusts of 40mph or greater will be possible.
Another big storm system looks to develop next week as we close out November. This one has a strong thunderstorm look to it as low pressure deepens from the plains into the Great Lakes ahead of a colder push of air…
I've been mentioning how the pattern has a chance to feature severe cold shots in December and I have no reason to change my thought process on that. The latest EPO forecast from the Ensembles is even stronger on the negative side as we enter December…
EURO ENSEMBLES
Wow! That's tanking.
The GFS ENSEMBLES are similar…
At the same time this is happening, blocking is showing up over Greenland and tries to connect with the block across Alaska…
That pushes frigid air south into the US.
The EURO Control is out of control with the blocking…
Speaking of the EURO Control, this is what it's showing for the 30 day temp departure as we get into December…
That's brutal stuff there, folks. If that verifies, we are all looking like this…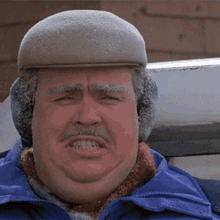 As always, I leave you with the famous scene from Planes, Trains and Automobiles…
If you don't like this movie, we probably wouldn't be friends. 😜
Updates come your way later today. Have a good one and take care.